Popular messaging service WhatsApp is now reportedly rolling out a beta update for Android users. The update will add a feature to the app by developing a "Mark as Read" button for notifications. It is presently said to be under testing on Android with version number 2.18.214 and is not available for users yet.
According to a report by WABetainfo, the new feature will allow users to mark a chat as read right from the notification area. The working is pretty simple. Whenever you will receive a message, "Mark as Read" feature allows users to quickly mark a chat as read directly from the notifications drawer. With this, users won't have to open the app and then open the chat.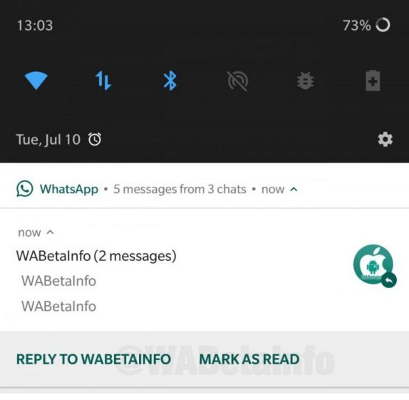 Apart from this feature, WABetaInfo also states that WhatsApp is also working on another feature that will allow users to quickly mute a chat in the Notification Center. With this, users can easily mute a chat from the notification center directly.
Previously, WhatsApp announced a new feature that it will start labelling all forwarded messages. The messaging app will indicate which messages users have received have been forwarded to them. This simply means whenever you receive a text from your friends, 'forwarded' will be written on the top of the message. To see this new forwarded label, you need to have the latest supported version of WhatsApp on your phone. This will not make a big difference, however, it will surely help users to know that the messages being they to them is original or being just a forwarded message.