Earlier this year, we rounded up a few things we expected from the next version of Google's Android OS. With the first quarter of the year almost over, Google has now announced the Android Q Developer Preview which is available for all Pixel phones dating back to the original Pixel 2016 devices. What this means is Google will roll out almost all the features that are present on the preview as a stable update later during the year.
We've thus compiled a list of those features that you'll now most definitely see on Android Q when it launches officially later this year.
Themes, Fonts, Accent selections: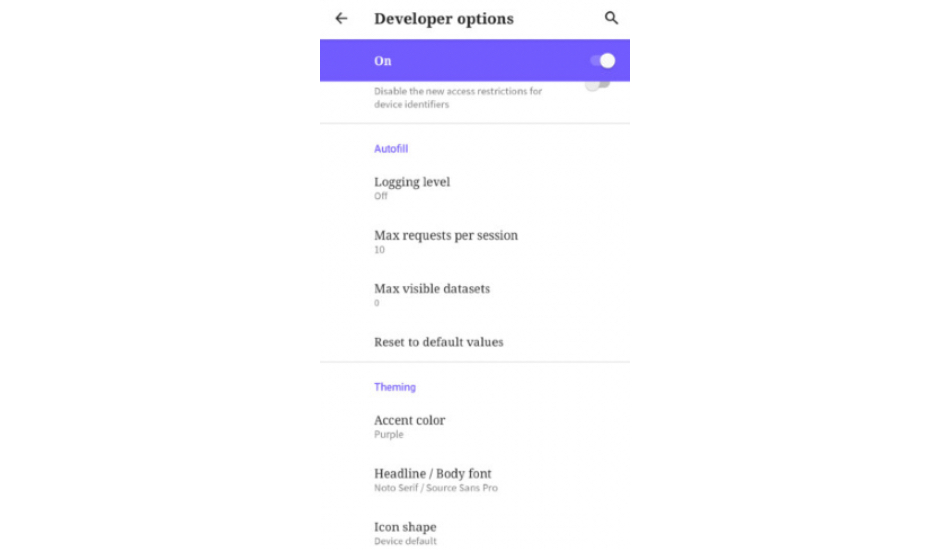 We expected Android Q to come with configurable accent colours and maybe some theme settings. Guess what? The first developer preview of Android Q has packed in the ability to choose from different accent colours including black, purple, green and blue. The option is available when heading over to the Developer Options after installing Android Q and is listed under the "Theming" section.
The section also allows users to customise the system-wide font of their choosing which includes options like Noto Serif and Source Sans Pro. Users can now also change the shape of icons in their homescreen and select from a list of options including a rounded rectangle, circle, squircle or a teardrop.
Remaining battery info inside Quick Settings menu: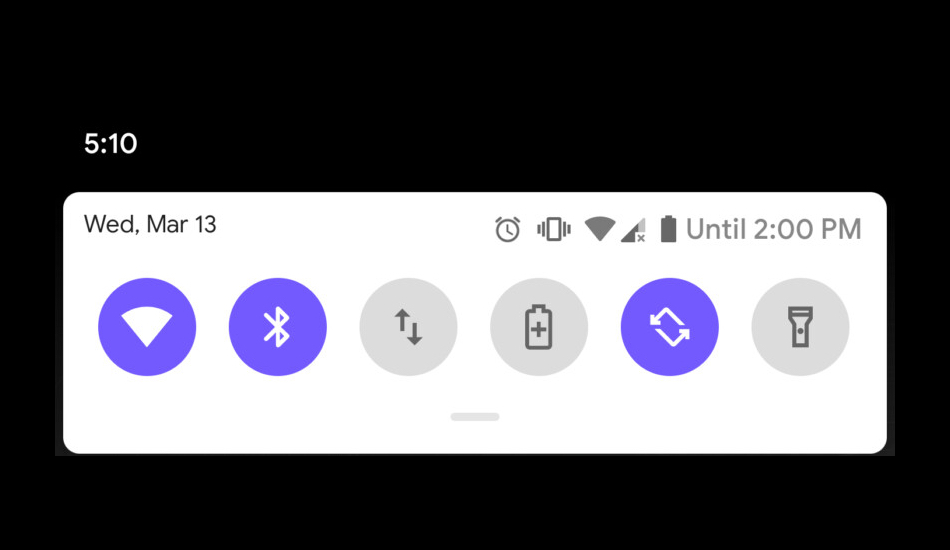 There was a time when macOS showed you the remaining battery before you plug in your charger. Fortunately for Windows users, it's still present on the taskbar. As for Android, the next version of Google's mobile OS will now come with an estimated battery display at the top of the screen when viewing Quick Settings. The section will show you how long your phone is expected to last with the charge that it has.
Google is acknowledging the Notch and curves: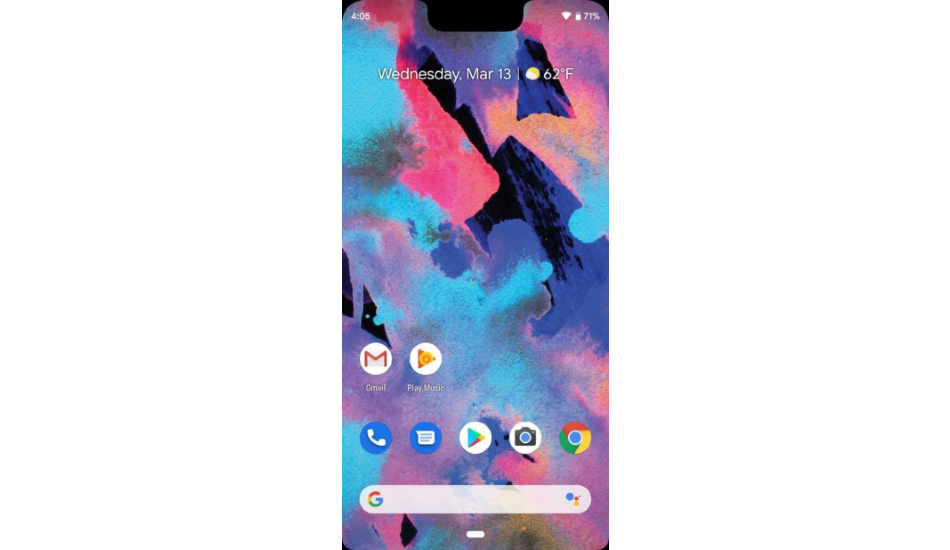 Unlike what Apple and Samsung do by hiding the notch, punch-holes and curves on the display, Google is going the other way. With the inception of the screen cutouts on so many recent phones, Google will NOT fill in the blanks when taking screenshots and will leave space for the notch, punch-holes or the curves on the display on the image.
Only swiping right clears notifications:
In previous Android builds, you had an option to clear a notification by swiping a single item to the left or right. In Android Oreo, Google rolled out a cutest menu which allowed users to block and mute notifications from an app by swiping either side but slowly.
With Android Q, you'll no longer be able to clear notification by swiping in any direction. To remove a single item from the notification shade, you'll have to swipe the item to the right. Swipe the same to the left will bring snooze, mute or block the notification. Such a feature is already present on Xiaomi's MIUI 10 and what this means is Google has taken suggestions from other Android custom ROMs as well.
Always-on displays with battery info
For those devices having always-on displays, Android Q will bring the battery information on the upper right to Botton centre portion of the screen when the screen is locked.
Better and faster sharing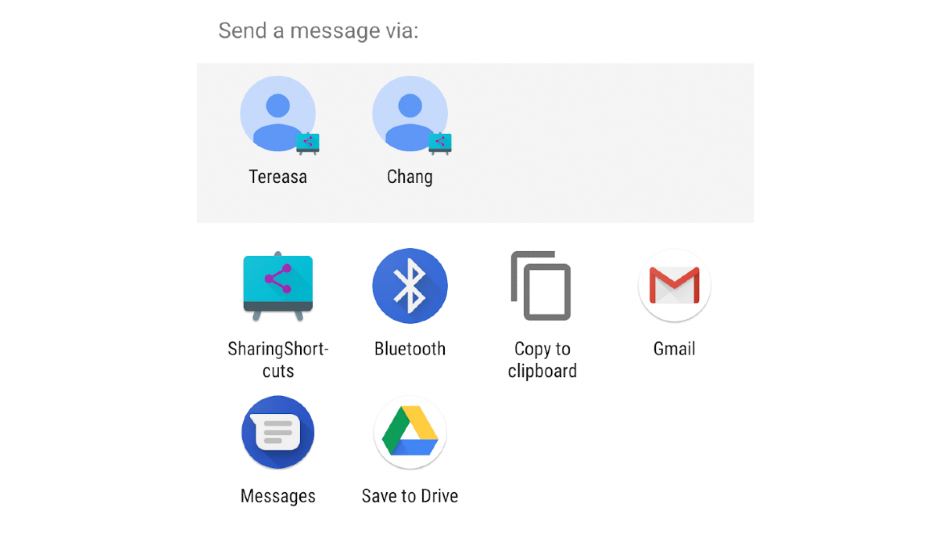 In the Android version that we've been accustomed to, sharing to other apps haven't been a freely flowing feature. With Android Q, the fluidity of the interface when sharing an image, video or document is much more smooth as the sharing menu pops up faster and has direct shortcuts to sent it to various sections of another app.
Emergency button right inside the power menu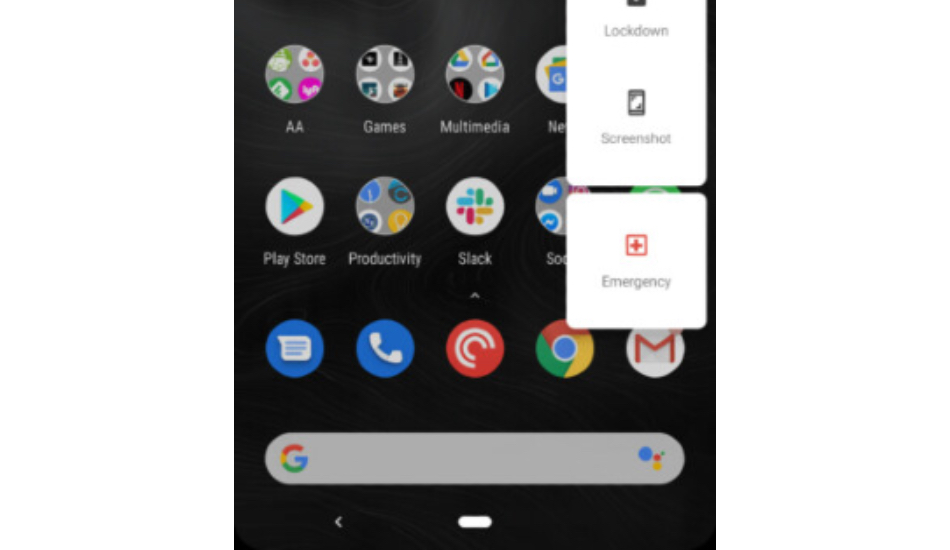 Android Q brings a really necessary feature that will be available without hassles with the press of a physical button. In moments of emergency, users can access the emergency dialer by long pressing the power button and selecting Emergency inside the pop-up power menu.
Notification bell for the latest message on your notifications:
Google has added a notification bell with every notification that's the latest one among the many that you receive. This will thus help you find the latest notification or text that you missed out when not interacting with your phone. The notification bell will be present on a notification for up to 30 seconds.
Now share your WiFi through QR codes
Currently, in Android Pie, you are now forced to tell your house guest the password to your home WiFi network. With Android Q, users will have an option to share their WiFi credentials by sharing a QR code to their friends, who can scan the same and join the WiFi network.
A new privacy section inside Settings: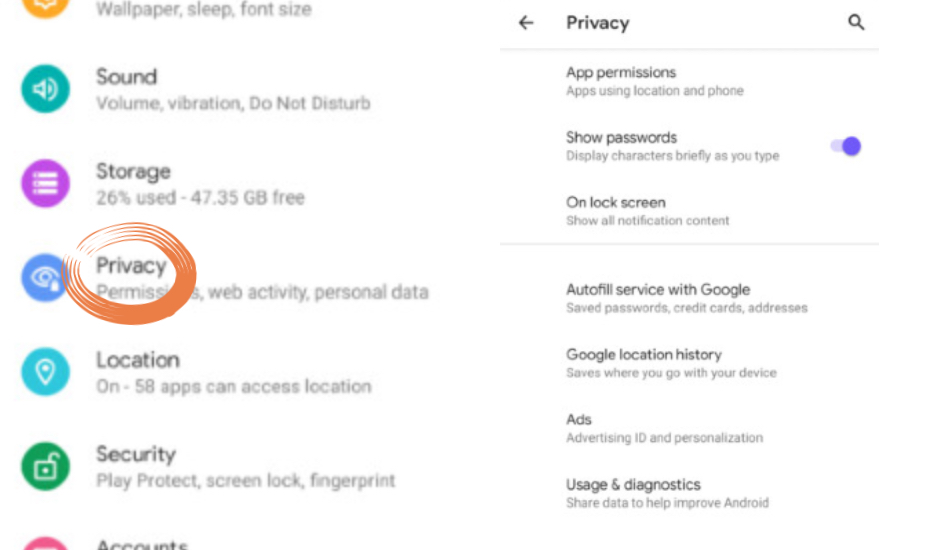 Well, it was a long time coming and rightly so, as the past year was centred around several privacy issues and data breaches. Google has thus added a new section inside the Settings page and it's labelled as Privacy. Tapping on the privacy section will give you access to app permissions, lock-screen notification options, your location history, Autofill settings, ads and personalisation and usage statistics, all on a single page that's easily accessible.
New Permission settings:
The upcoming version of Android is also set to bring charges to user permissions in the Settings, allowing users to allow and sent services and apps access to a certain setting. For instance, users can now choose to opt for the app to access your location while the app is in the foreground by selecting "Allow only while the app is in use" toggle. This option is present as a new toggle in addition to the standard "allow" and "deny" toggles.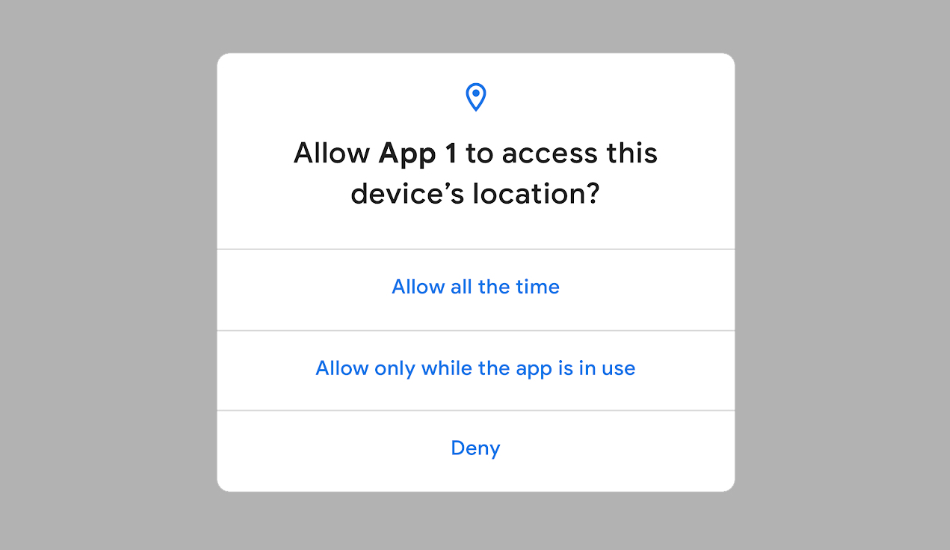 What this means is, you can allow Uber to have access to toy your location only when it's running on the foreground.
Support for foldable phones: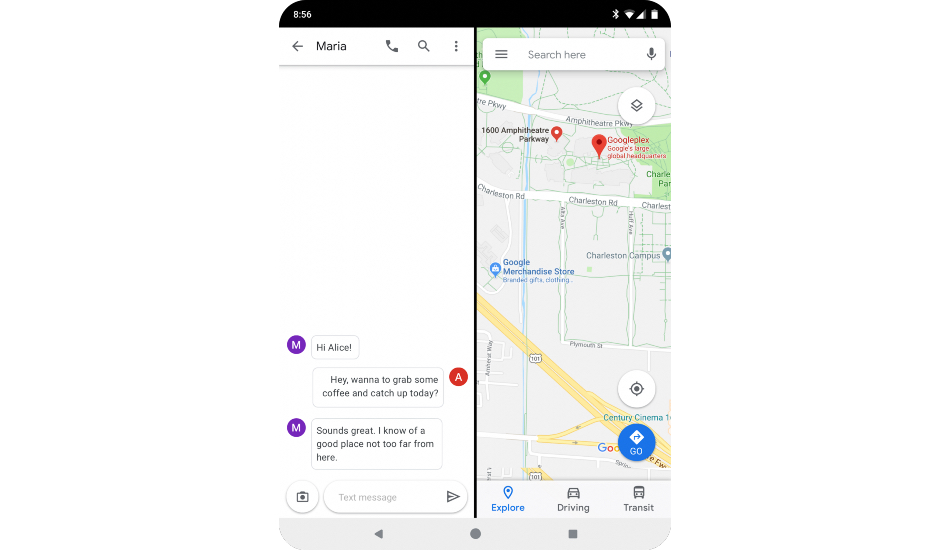 With the growing popularity of foldable phones, Google has now implemented an idea for when foldable phones really go commercial. The OS now comes with pause and resume states when opening or closing displays and will allow the app to know which screen is in focus. The newest version of Android has made several changes to the resizable activity attribute for apps.
Android Slices comes to Settings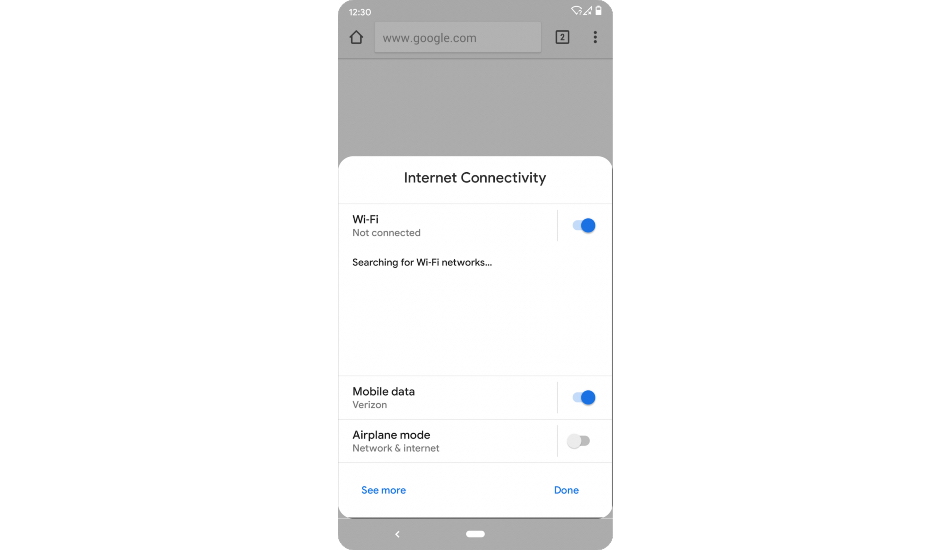 Android Q will have a new Settings Panel that will pop up on top of an app or any screen and will display you suitable giggles that you can switch or adjust when using that certain app. For instance, the floating UI when used on Chrome will bring up options to toggle WiFi, cellular data or the airplane mode on/off.
Dynamic Depth for specialised blurs and bokeh options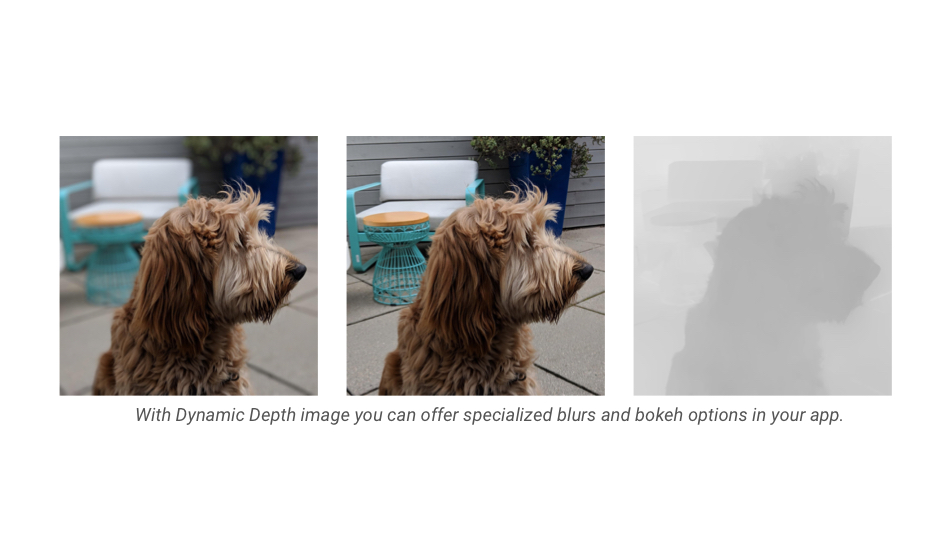 Android Q has now added depth mapping support which will create an image which consists of a JPEG, XMP metadata related to depth related elements, and a depth and confidence map embedded in the same file. With this feature, phones will be able to create 3D images and support AR photography.