Sangeetha Mobile, which has mobile phone retail stores across Andhra Pradesh, Karnataka and Tamil Nadu, is offering more than Rs 100 recharge to people walking in to its showroom in Bangalore.
The only condition is that you should be an Airtel customer. According to the company, there are no other terms and conditions to avail this offer. Also, you do not need to buy anything.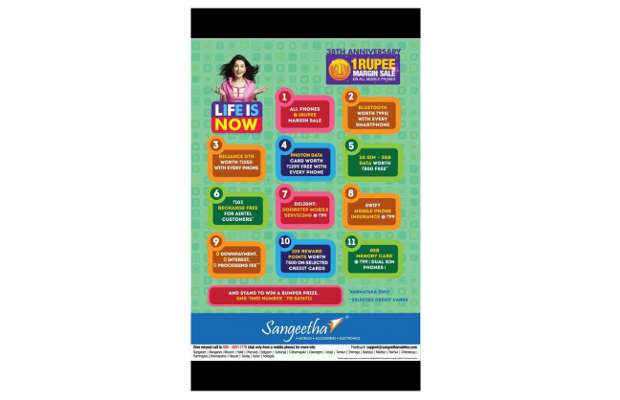 Sangeetha Mobile is also offering a one month free trial version of Defenx Smartphone Security suite, with complete features, on purchase of smartphones from any Sangeetha Mobiles outlet. It is also offering 1 year activations at special price of Rs 749.
On top of these offers, there is also a 1 rupee margin sale at its showrooms, phich means that the phones are being sold at dealer price plus 1 rupee.
These offers are part of the 38th anniversary celebration of the chain. To top it all, Sangeetha Mobile is also offering free Bluetooth kit with every purchase of smartphone. There are more options like free DTH, free Tata Photon Plus and 3 GB data card etc to choose from. However you can only avail one offer at a time. The offers are valid for little more than a week from now.