Twitter has introduced its Twitter Blue subscription service in India, which is accessible on iOS, Android, and the web. The service provides verified users with a blue tick mark and several exclusive features.
Twitter Blue Fee
The monthly subscription on mobile devices costs Rs 900, while the web version is priced at Rs 650 per month. An annual subscription on the web is also available at Rs 6800 per year, which is approximately Rs 566 per month.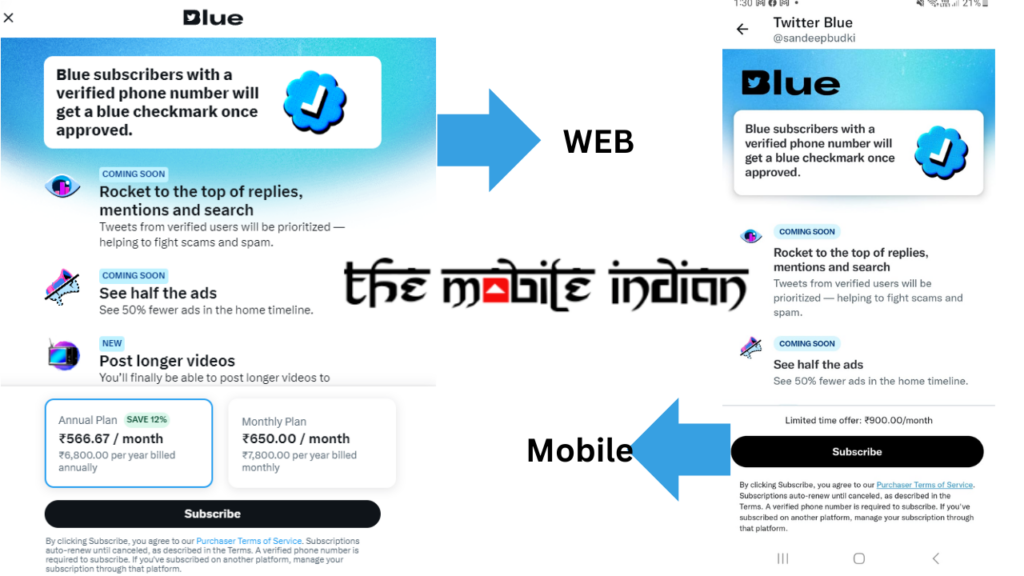 Twitter Blue Features
Twitter Blue offers subscribers early access to features like the "Edit Tweet" button, the ability to post longer, high-quality videos, and prioritized rankings in conversations. The company also claims that Twitter Blue subscribers will see half the amount of ads compared to normal users on the platform's home timeline.
In addition to these features, the subscription service also offers custom app icons, NFT profile pictures, themes, custom navigation options, access to the Spaces tab, unlimited bookmarks, and the ability to undo tweets. Although users may not receive the blue tick mark immediately upon subscribing to Twitter Blue, they will have immediate access to the other perks. It's important to note that not all features may be available on all devices.
Related Stories:
Post Elon, here's a list of prominent people who have quit Twitter
Twitter Blue 2.0: Higher Price, Removal of ad-free articles, Addition of Blue Verified Badge
How to buy Twitter Blue?
To subscribe to Twitter Blue on a mobile device, tap on the profile pic icon from the top left corner of the screen and select "Twitter Blue." The web version can be accessed by clicking on the option on the left side of the screen. It's worth noting that accounts that have been inactive for more than 30 days cannot purchase the Twitter Blue subscription.
Countries where Twitter Blue is available
Twitter Blue is already available in various countries, such as Canada, Australia, New Zealand, the US, and the UK. Following Elon Musk's takeover, the company is striving to reduce losses and is relying on Twitter Blue to generate revenue. Musk recently announced plans to change the size and frequency of ads on the platform and is rumoured to launch a more premium subscription service that removes all ads.