The microwave oven is one of the essential appliances in our kitchen. It is the most versatile appliance suitable for those who needs a quick meal but doesn't have the time and skills. In India, Microwave Ovens became popular only after opening up of the Indian Market in 1991. The popular brands of Microwave Ovens are LG, Panasonic, Samsung, Toshiba, Whirlpool, IFB. Choosing the right microwave is necessary for quick and convenient cooking.
Types of microwaves:
Solo/ ConventionalMicrowave (19-23 litres) -These are smaller and simpler to operate. It has low price and can be used for the basic cooking functions like reheating and defrosting food, except baking and grill. Solo microwave price range- Rs 4,500 to Rs 8,000
Grill Microwave (18-28 litres) – Unlike the solo microwave, grill microwave provides some additional functions like baking, grilling and toasting. Grill Microwave price range- Rs 5,000 to Rs 15,000
Convection Microwave – These microwaves can perform all the cooking functions including barbeque your food. It provides uniform heat to the food item placed inside, making the food crispier. It is more expensive than the other two variants. Convection microwave price range- Rs 9,000 to Rs 25,000
Conventional vsConvection
A conventional microwave oven emits microwaves that pass through glass and plastic containers to cook food. It combines basic microwave technology with radiant heat and circulating hot air to let cook or heat food. On the other hand, convection microwaves have a heating element as well as a fan to circulate the heated air. This results in a homogenous cooking.
Amongst the three, the Solo microwave and the Convection microwave are the most popular ones in the market nowadays.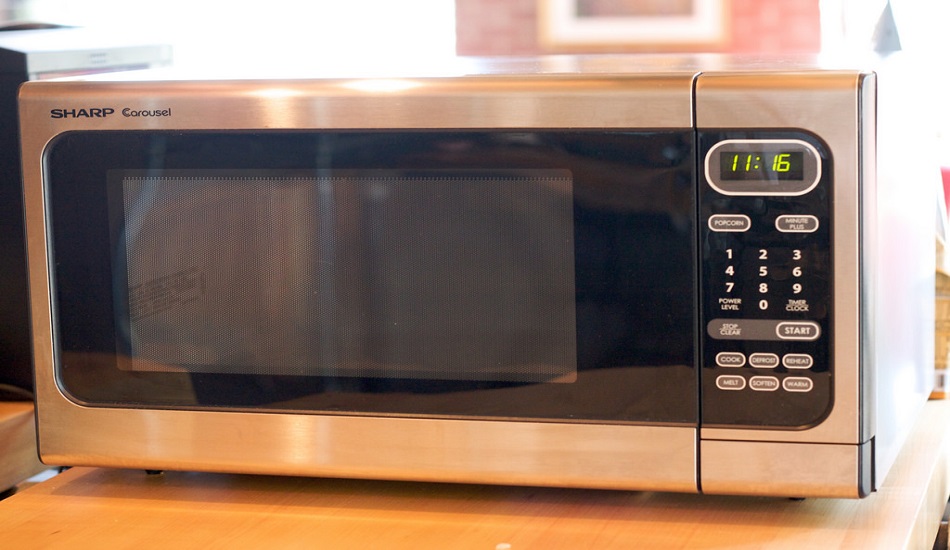 Things to keep in Mind while buying:
Size of the microwave: Size of the microwave can be chosen by the number of people the food is being made for. For example, for a family having 2-3 members, a small sized microwave (18-20 litres) would be the best. Cooking meal for a large family would require a larger microwave with high power. The mid-sized ones (20-23 litres) are the most popular ones.
Company: Some of the known brands like Samsung, LG, Toshiba, IFB are the leading manufacturers of the microwave oven. Except for IFB and Godrej which offer three tear warranty on heating element and body, another offer only one year warranty. Also, do take into consideration after sales services of different brands.
Automatic sensor: Ovens having automatic sensor shuts down automatically when the sensor feels that the food is perfectly cooked. It prevents overheating of food.
Power Rating: Higher the power rating, lesser will be cooking time. Smaller sized ones generally consume less power (800-1000 watt) than the larger ones (1000-1600 watts).
Control panel: It is better to buy a microwave having a mechanical or a combination of both mechanical and touch control panel. Touch control panels have to be handled carefully and are prone to failures. Most companies nowadays have started providing mechanical control panels for their high-end products.
Child safety lock: This is another important feature that should be considered while buying a microwave oven, especially for families having kids. This electric lock system prevents the happening of any misuse of the oven, thus avoiding accidents.
The best brand microwaves with all of the above features are available in the price range Rs 12,000 to Rs 20,000, both online and offline in India.