CDMA operators were the first in the high speed wireless data game, but now with GSM players offering 3G services, they are not the only ones.
However, they are still the only ones with a pan India service as none of the 3G providers is present in more than 15 circles. And perhaps that's the reason they continue to price their services on par with 3G operators and not much below them; but they are definitely cheaper.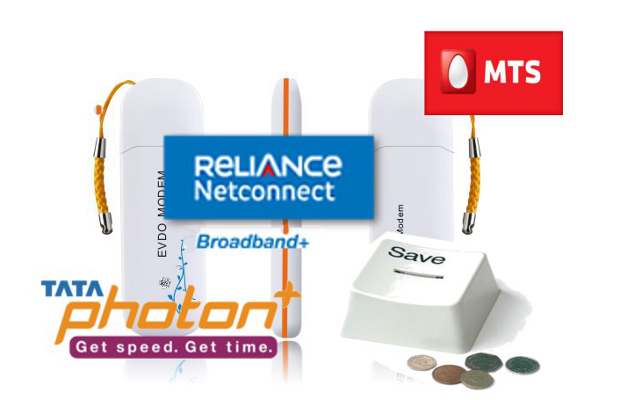 Unlike GSM players these private 3G operators are offering very different pricing models for their data services.
But which one is the cheapest?
MTS
MTS is offering unbundled data beyond the data cap at 30 paise per MB but only for its smartphone users. On the other hand, MTS dongle prepaid users pay Rs 1 per MB and postpaid users pay 40 paise per MB for extra usage beyond their package. The slower speed beyond high speed data limit is a decent 144kbps which is better than all GSM 3G offerings.
Currently, MTS is offering many unlimited packages to its prepaid customers starting from one day pack worth Rs 96 that offers 1 GB high speed data, to a 7 day pack that costs Rs 298 for 2 GB unlimited data. In terms of monthly packs, you have the option of 5 GB, 10 GB, and 15 GB packs which costs Rs 798, Rs 999 and Rs 1,298 respectively.
The teleco also offers some monthly packs such as the Rs 248 pack offering 1 GB data; Rs 348 for 1.5 GB, Rs 490 for 3 GB; Rs 698 for 4 GB and Rs 798 for 6 GB. A 90 day pack of 6 GB costs Rs 998. There are two more long validity packs costing Rs 698 (4 GB with 60 days validity) and Rs 1,499 (15 GB with 90 Days validity)
The post paid customers have it even better with Rs 444 offering 3GB per month and extra usage charged at 40 paisa per minute. Unlimited packs offer slightly extra too like 6Gb and 12 GB instead of 5 and 10 in the prepaid.
MTS also offers 3 packs with 3 months validity offering 3, 6, 12 GB of data every month priced at Rs 2097, 2397 and 2697 respectively and also offers free CDMA dongle with these packs.
Reliance Communications
Reliance Communications offers just four packs under its CDMA data service. The base pack costs Rs 250 and offers 1 GB bundled usage, and thereafter the teleco charges just 20 paise per MB till your bill reaches Rs 1,250, after which data is free though at a slower speed of 64 Kbps. This plan is not available for prepaid users.
The other three plans are unlimited and cost Rs 750, Rs 950 and Rs 1,200 offering 5 GB, 10 GB and 15 GB high speed data respectively. Please note that the data speed is reduced to 64 Kbps post this limit.
Other plans that it offers are very similar to GSM 3G providers including RCom, and even the charges for unbundled usage are similar to them at 3 paisa per 10KB (Rs 3 per MB).
Tata Docomo Photon+
Tata Photon+ offers a Rs 300 plan, which offers just 512 MB data but beyond this you can enjoy high speed data at 20 paise per MB till you get to a bill of Rs 750 or Rs 1,250 (you can choose the limit,) after which data is unlimited but at a useless speed of 10 Kbps.
There are three unlimited plans too that are priced at Rs 950, Rs 1,200 and Rs 1,500 offering 6 GB, 11 GB and 15 GB of data respectively. Each of these plans also gives Rs 100 cash back for one year.
Other plans cost Rs 250, Rs 450 and Rs 650 for 1 GB, 2 GB and 4 GB, respectively with data beyond these limits charged at Rs 1 per MB. Each of these packs has a bill cap ranging from Rs 750 to Rs 1,250.
Verdict
MTS has the widest choices with a lot of unlimited, limited and long validity plans. However, Tata Docomo Photon+ also offers nice plans for those who are not very high data users by offering very low data charges above the bundled data. Tata Docomo Photon+ also offers right combination of unlimited plans which is very similar across these three operators.
RCom's Rs 250 pack is also attractive but is only applicable to postpaid data card users. Rest of the packs are priced very similar to other operators including GSM 3G offerings.