Smartphone usage in India is quite low with even the most optimistic reports putting the numbers at 25 million amongst the 900 million plus overall mobile users. However, those users who are already using smartphones in India are getting addicted to it in a big way with over 45 per cent smartphone users saying they cannot think of going to bed without their smartphones tucked beneath the pillow.
This has been found in a study by Ericsson Consumer Lab called 'The Promise of Mobile Broadband'. The study was conducted between November 2011 and January 2012, to gauge the early impact of the roll-out of 3G in India, covering 5000 smartphone users between the age group of 15-45 across the county.
According to the report, the addiction is so bad that 28 per cent people claimed to forget people around them when they are engrossed in their smartphones, while a good 34 per cent said that smartphones have encroached on their quality time with their loved ones.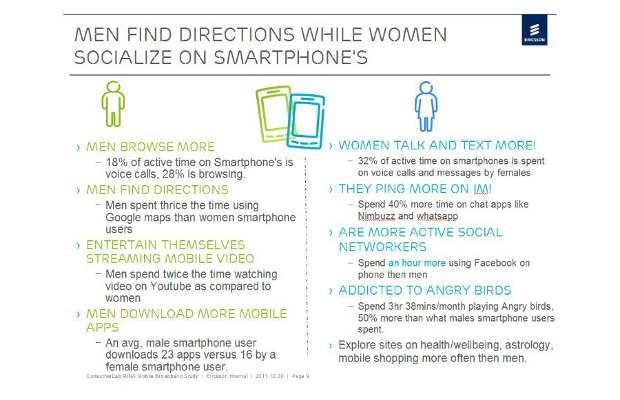 The report also points out that while users expect more from the 3G services, there is low awareness about mobile data plans with 28 per cent buying 3G data plans thinking it included unlimited data usage. This is leading to bill shocks among the consumers and make them feel that their operators are not offering fair pricing.
Other concerns like low network quality, handset battery getting drained faster is also impacting the uptake of 3G. Clearly, consumers today expect transparent data plans and want operators to devise plans, where they can control their usage.
According to the report, teens between 13 to 18 years in the metros and tier 1 towns are the heaviest users of 3G data, with 82 per cent of them own their first smartphone and half of them own it since last 6 months. Only 14 per cent have a fixed broadband connection at home, which points out to a healthy growth for these services as these teens grow into workforce.
The smartphones are also emerging as the preferred means of accessing internet with 1 out of 3 users reporting them as the only means to access internet. Furthermore, 3 out of every 5 users prefer using internet via a smartphone despite having multiple devices at home.
The study also claims that the first time users of smartphones are more dependent than mature users with over two third (69 per cent) of all first time smartphone users said to be spending over 50 per cent of all their internet time on their smartphone.
There is also significant difference between the men and woman as far as smartphone usage is concerned. While men use smartphones to find directions, women use them to socialise.
Men spent thrice the time using Google Maps than women smartphone users, who instead talk and text more. Women spend nearly 3hr 38mins/month playing Angry birds, 50 per cent more than what males smartphone users spent.
With the launch of 3G services in India, mobile broadband is seeing increased uptake with an average 44 per cent of 3G users today claim that they download apps, watch videos, share files etc at least once daily. 3G users spend as much as 46 minutes per month streaming YouTube.
Smartphone shipments in India is growing at a very fast pace thanks to lowering of entry price of smartphones, and is expected to double by the end of 2012. Currently, around 3 million smartphones are shipped every month, though it is considerably lower than overall mobile shipments of around 12-15 million. Higher growth in the smartphone segment points to a bright future for mobile broadband services.