Apart from showcasing its flagship smartphone Galaxy S4, Samsung also showcased a range of accessories at the event in New York.
Samsung showed a S View Cover which allows access to features like picking up a call or seeing notifications without opening the cover, a wireless charging pad, a wireless scale, an S band companion bracelet and an unnamed gaming pad prototype.
The most exciting accessory showcased was the bluetooth game controller, gamepad, which features all the regular controls like dual analog sticks, a D-pad, four face and two shoulder buttons. The gamepad can hold most phones thanks to flexible holder and transform itself into a full fledged a handheld gaming console (feels something like Xperia Play).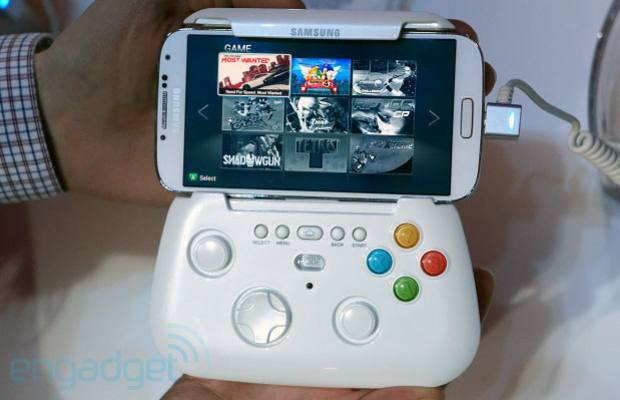 The game pad runs on AAA batteries and connects wirelessly to the Galaxy 4. Samsung did not mention the price or official release date, but the gamepad is expected to be available in a couple of months.
The S Band works with the Samsung Galaxy S4's new S Health software. It is basically a pedometer bracelet that one can wear while walking or running. The S Band tracks your steps and feeds the information to your Galaxy S4 when you sync it with the device after your workout.
The S Health software also monitors your health, surroundings and allows users to check calorie information and keep a food, exercise and/or sleep monitor diary. The wireless scale which is basically weighing scale, just that it sends the information to the phone through bluetooth.
The Galaxy S4 also features Qi wireless charging capabilities. Samsung also showcased a wireless charger, however Samsung didn't share any details of the device.
Samsung did not announce pricing or release dates for any of the Samsung Galaxy S4 companion accessories. But these are likely to be announced by end of April when Samsung starts shipping Galaxy S4 around the world.
Image credit: Engadget