Samsung has introduced the HMD Odyssey+ – a VR headset based on Windows Mixed Reality Platform offering life-like and immersive virtual reality experiences.
The Odyssey+ comes with dual 3.5-inch AMOLED displays that have a combined resolution of 1,440 x 1,600 per eye. This paired with the Anti-Screen Door Effect technology makes way for distraction-free immersive viewing which doesn't hinder immersion causing dizziness or nausea over longer usage. The bundled controlled can be used as a flashlight to stay aware of your surroundings.
The Samsung VR headset uses AKG's premium audio technology for dynamic sounds with support for 360 degrees spatial sound that delivers 3D audio with clear and precise acoustics from every angle. It also includes built-in volume controls using which you'll easily be able to adjust the volume when in action.
The HMD Odyssey+ weighs in at 590 grams with a wide-eyed box on the front that measures around 146mm to match a user's facial features for a confutable fit and longer use. The breathable anti-fog material of the Samsung HMD Odyssey+'s face padding ensures the inside of the eye box doesn't mist up.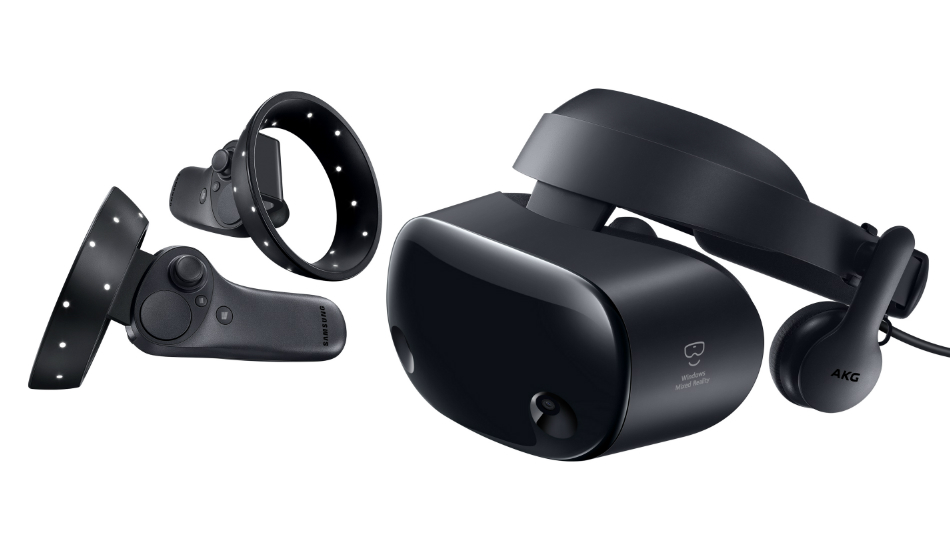 The Samsung HMD Odyssey+ also comes with pre-paired controllers, so you can start playing right out of the box. The 6DOF controller can detect a user's move and distance travelled inside your mixed reality world, responding quickly to the slightest motion, ensuring your gameplay movements are more natural, and significantly reducing any dizziness from in-game motion.
The Samsung HMD Odyssey+ is available for an asking price of $499 (approx. Rs 36,800) at the Microsoft store and Samsung.com.