Samsung has today announced the launch of its new range of wearable devices in India. The company has introduced Galaxy Watch Active for Rs 19,990, Gear Fit for Rs 9,990 and Gear Fit e for Rs 2,590.
The Samsung Galaxy Watch Active will be available in Black, Silver, Rose Gold and Deep Gold colour options. The Gear Fit comes in Silver and Black colours, while Gear Fit e is available in Black, White and Yellow colours. The Galaxy Watch Active and Galaxy Fit will be available across all retail stores, Samsung Opera House, Amazon and Samsung e-Shop. The Galaxy Fit will be available on Flipkart and Myntra as well.
The Galaxy Fit e will be available on Flipkart, Myntra and Samsung e-Shop starting from July 5 till July 19. Post that Galaxy Fit e will become available in select retail stores as well. Customers can pre-book the Galaxy Fit e on Flipkart starting July 1. All the wearable products were launched at the Samsung Unpacked event in February this year.
Samsung Galaxy Watch Active
Starting with the smartwatch, it is the first from Samsung to come loaded with blood pressure monitoring. With this, users can check for the blood pressure by simply downloading My BP Lab application, which is jointly developed with the University of California, San Francisco.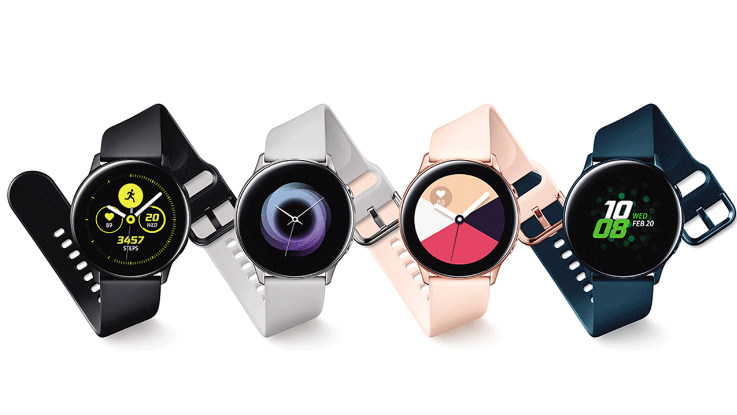 It also comes with stress tracker that helps to keep stress levels in check and provide with some breathing exercises from the stress widget. The Galaxy Watch Active automatically detects when a user is running, riding a bike, rowing, using the elliptical trainer or starting a dynamic workout. Users can manually engage in more than 39 activities, set daily goals and monitor progress.
Coming to the specifications, the Galaxy Watch Active features a 1.1-inch AMOLED, Full Color Always On display with a screen resolution of 360 x 360 pixels. The display is protected with Corning Gorilla Glass 3 protection. The smartwatch runs on Exynos 9110 dual-core processor clocked at 1.15GHz along with 768MB of RAM and 4GB of internal storage.
It runs on Tizen-based Wearable OS 4.0. The watch comes loaded with 230mAh battery and it is loaded with WPC-based wireless charging solution. The smartwatch comes with 5ATM along with IP68 certification. It also features MIL-STD-810G military-grade certification as well. The smartwatch is compatible with both Android and iOS.
Galaxy Fit and Galaxy Fit e
Coming to the fitness trackers, both the devices are loaded with more than 90 different activities and both of them have the ability to automatically start recording different activities. The activities include run, walk, bike, row, hop on the elliptical trainer or general dynamic workout. The fitness trackers also come with sleep analysis and smart stress management.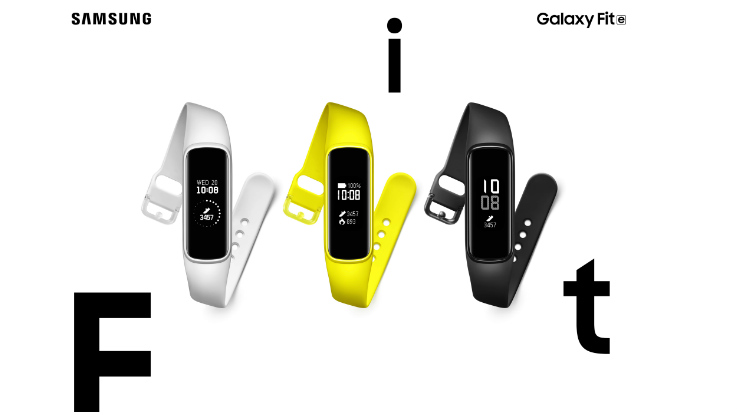 Coming to the specifications, the Galaxy Fit features a 0.95-inch Full-Color AMOLED display with 120 x 240 pixels and 282ppi pixel density, while the Galaxy Fit e is equipped with 0.74-inch PMOLED display with 64 x 128 pixels and 193 ppi pixel density. Both the devices are loaded with 5ATM water resistance and MIL-STD-810G for added durability.
The Gear Fit is powered by an MCU Cortex M33F 96MHz + M0 16 MHz processor, while the Fit E features MCU Cortex M0 96 MHz chipset. Both the wearables come with Realtime OS. The Galaxy Gear Fit is equipped with 512KB internal, 2048KB external RAM and 32MB storage, while the Gear Fit E features a 128KB internal RAM and 4MB external ROM. With Gear Fit, users can reply to the notification and one can wireless charge it as well. The Galaxy Fit is loaded with 120mAh battery, while the Galaxy Fit e is loaded with 70mAh battery. The company claims that both the devices can deliver up to 7 days of battery backup.