The Samsung Galaxy Watch Active comes with a price tag of $199.99 (approx. Rs 14,300) and it will be available in Silver, Black, Rose Gold and Sea Green colour options.
Samsung has officially unveiled its new Galaxy Watch Active, Galaxy Fit, Galaxy Fit E and Galaxy Buds wireless earbuds at the Galaxy Unpacked 2019 event. The company has also introduced the Galaxy S10 lineup and the much-awaited Galaxy Fold smartphone.
The Samsung Galaxy Watch Active comes with a price tag of $199.99 (approx. Rs 14,300) and it will be available in Silver, Black, Rose Gold and Sea Green colour options. The Galaxy Fit will be priced at $99 (approx. Rs 7,000), while there is no information about the pricing and availability of the Galaxy Fit E. The Samsung Galaxy Buds comes with a price tag of $129, which roughly translate to Rs 9,300 and it will be available in Black, White and Yellow colour options. Samsung is yet to announce the availability of the latest wearables for the Indian market.
Samsung Galaxy Watch Active
Advertisement
Samsung Galaxy Watch Active is the company's first wearable that comes loaded with blood pressure monitoring. Users can check the blood pressure by downloading My BP Lab, which is jointly developed with the University of California, San Francisco. However, it will be available for five markets including the US, Canada, Singapore, Australia, and Germany. It also comes with stress tracker that helps to keep stress levels in check and provide with some breathing exercises from the stress widget.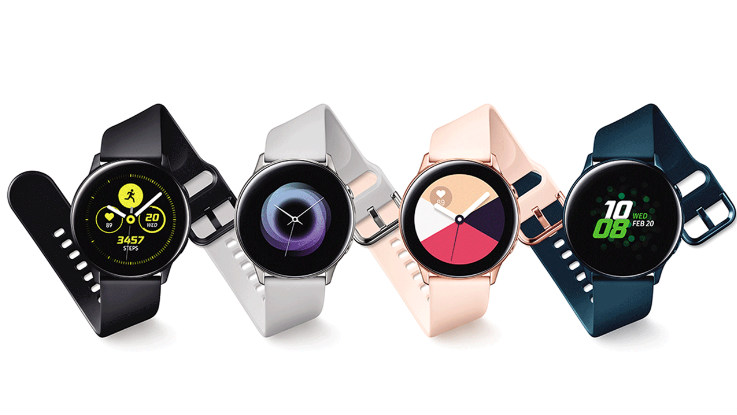 The Galaxy Watch Active automatically detects when a user is running, riding a bike, rowing, using the elliptical trainer or starting a dynamic workout. Users can manually engage in more than 39 activities, set daily goals and monitor progress. The watch also comes with Bixby's voice capabilities, which enable users to make calls or send messages without using the smartphone.
Coming to the specifications, the Galaxy Watch Active features a 1.1-inch AMOLED, Full Color Always On display with a screen resolution of 360 x 360 pixels. The display is protected with Corning Gorilla Glass 3 protection. The smartwatch runs on Exynos 9910 dual-core processor clocked at 1.15GHz along with 768MB of RAM and 4GB of internal storage. It runs on Tizen-based Wearable OS 4.0. The smartwatch comes with 5ATM along with IP68 certification. It also features MIL-STD-810G military-grade certification as well. The smartwatch is compatible with both Android and iOS.
Samsung Galaxy Fit and Fit E
Samsung Galaxy Fit and Fit E are the new fitness trackers from Samsung. Both the devices track different activities like run, walk, bike, row, hop on the elliptical trainer or general dynamic workout. Users can select more than 90 different activities in the Samsung Health app and the trackers will automatically start recording the chosen workout. The fitness trackers also come with sleep analysis and smart stress management.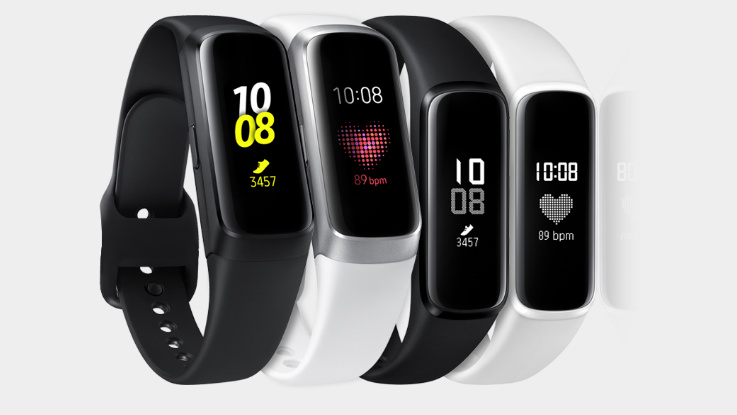 Coming to the specifications, the Galaxy Fit features a 0.96-inch Full Color AMOLED display with 120 x 240 pixels and 282ppi pixel density, while the Galaxy Fit E is equipped with 0.74-inch PMOLED display with 64 x 128 pixels and 193 ppi pixel density.
The Gear Fit is powered by a MCU Cortex M33F 96MHz + M0 16 MHz processor, while the Fit E features MCU Cortex M0 96 MHz chipset. Both the wearables come with Realtime OS. The Galaxy Gear Fit is equipped with 512KB internal, 2048KB external RAM and 32MB storage, while the Gear Fit E features a 128KB internal RAM and 4MB external ROM.
Samsung Galaxy Buds
Samsung has also introduced the truly wireless earbuds during the launch event with Galaxy Buds. The successor of Gear IconX (2018) comes loaded with a host of interesting features. To begin with, the earbuds come with adaptive dual microphone technology, which features one inner microphone and one outer microphone in each earbud. This helps to deliver the voice clearly in both loud and quiet environments. The Earbuds delivers premium sound quality, which is tuned with AKG and features 5.8pi dynamic driver.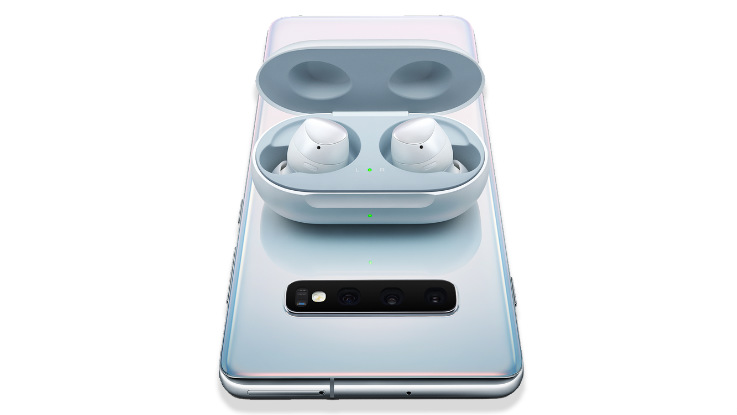 The Galaxy Buds also features Enhance Ambient Sound that allows users to hear to their surroundings clearly even while the buds are in the ears. The earbuds come integrated with Bixby and one can use the voice commands to make calls, send text messages or check the battery life of the earbuds.
Galaxy Buds gives up to six hours of Bluetooth streaming, and up to five hours of calls. With the compact case, one can charge the buds for up to seven hours,4 and it also gives 1.7 hours of battery life on a 15-minute quick charge. The earbuds feature a 58mAh battery, while the charging case has 252mAh battery.