Samsung has released a new colour variant of the Galaxy S9 and S9 Plus smartphones adding to a total of six colour-coded versions of the South Korean company's flagship.
The newly available model which has been released in China is labelled Icy Blue featuring a gradient finish at the back. The gradient pattern transitions from Light Blue at the top to light shades which finally stop at White, down at the bottom.
The latest Icy Blue variant now brings the number of colour versions of the Galaxy S9 and S9 Plus to a total of seven. The Galaxy flagship was previously available in Midnight Black, Coral Blue, Burgundy Red, Titanium Gray, Sunrise Gold and Lilac Purple; though the availability of the same varied across regions.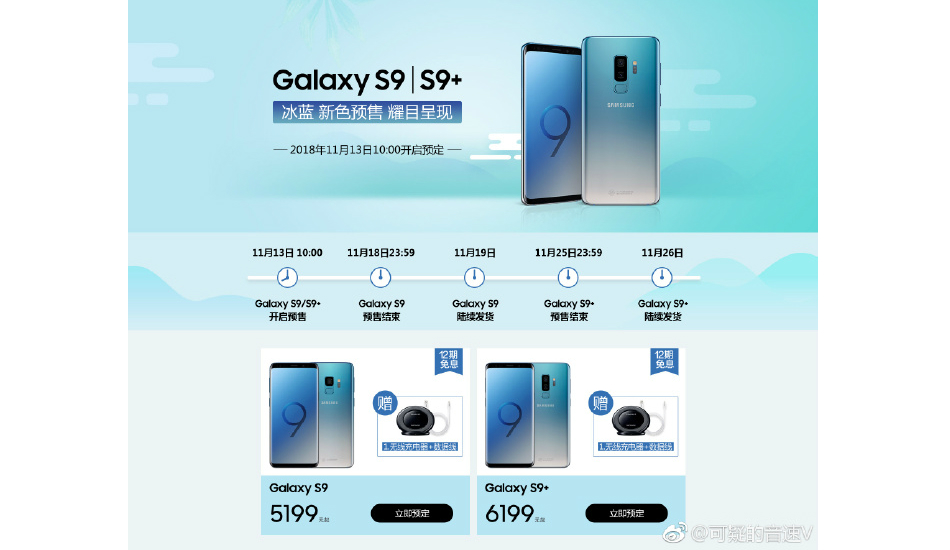 To recall, the Galaxy S9 features a 4GB of RAM, while the Galaxy S9+ is equipped with 6GB of RAM. The phones will be available in 64GB/128GB/256GB storage options.
The S9 features a 12-megapixel sensor with the variable aperture so that users will be able to switch between f/1.5 and f/2.4 apertures. The Galaxy S9+ features a dual-camera setup at the rear with a combination of two 12-megapixel sensors with one of them featuring variable aperture as mentioned above along with a secondary sensor with f/2.4 aperture. Both the sensors present in Galaxy S9+ and single rear camera in Galaxy S9 feature optical image stabilization (OIS) and both of them come loaded with laser and Dual Pixel autofocus.