Samsung is rolling out a new OTA update to Galaxy S9 and Galaxy S9+ users in India that brings the much-awaited dual VoLTE functionality to the flagship range. Users will now be able to use 4G and VoLTE calling services on both SIM cards without needing to switch from one network to the other. Along with the Dual VoLTE functionality, the Galaxy S9 lineup gets support for Dual VoWiFi support which allows users to make calls over WiFi networks, though it should be noted that no telecom operator offers such a service in India at this point.
The update, spotted first on Twitter, weighs in at under 427MB and modifies the build number of the firmware to G965FOXM1BRE3, G965FXXU1BRE3, and G965FXXU1BRE5 depending on the Galaxy S9 model you use. Unfortunately, the device still runs on the older Android 8.0 Oreo interface but on the bright side, Samsung is pushing the May 2018 Android Security updates from Google.
In addition to the newly supported dual VoLTE/VoWiFi technology, Samsung claims to have improved VoLTE and VoWiFi functionality through the update changelog. The Galaxy S9 and S9 Plus now support native call recording which was previously not available on the device. This means users won't have to rely on third-party applications to record their voice calls and save them to their internal/external storage.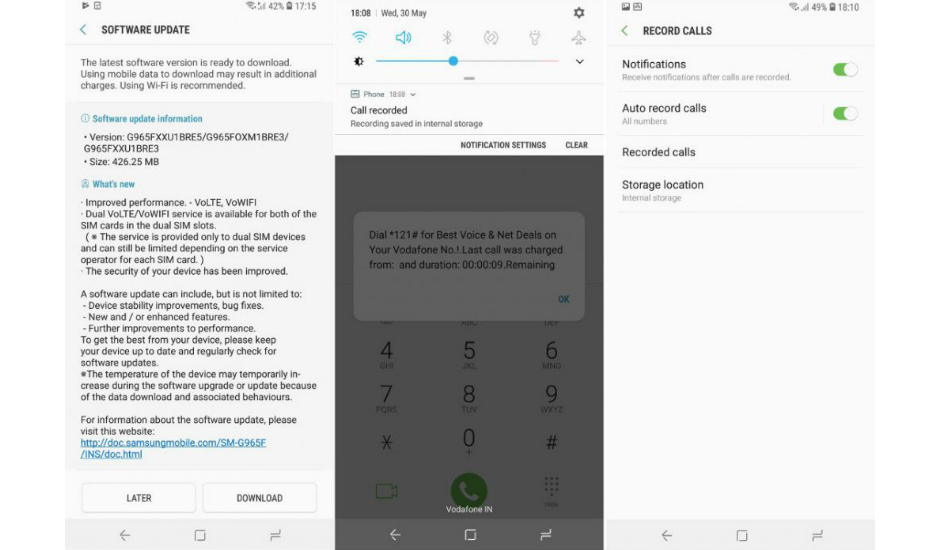 Galaxy S9 and S9 Plus users who haven't been notified of the latest update will need to head over to Setting > Software Update and update manually. Users will be able to choose whether they want their update to be installed right away or schedule it accordingly for a later time of their choosing.
While dual-SIM support had been provided for over a decade now, in its early days, users were only allowed a single sim on 3G while the other would be stripped down to 2G. With the rapid growth of 4G and VoLTE in the country, a means to use the technology from two different operators and switch between them concurrently has been much awaited. The dual VoLTE support not only allows 4G networks to run on both SIMs at the same time but also use VoLTE on each SIM for HD calling services simultaneously.