Wallpapers and images featuring Salman Khan and Katrina Kaif were the most downloaded Bollywood celebrities on Airtel's network this year.
The company's data from image downloads has also revealed that in the list of most popular Bollywood actors, Salman Khan is followed by Shahrukh Khan, Ranbir Kapoor, Akshay Kapoor and Shahid Kapoor.
On the other hand Katrina Kaif has beaten the likes of Kareena Kapoor, Deepika Padukone, Priyanka Chopra and Aishwarya Rai Bachchan to grab the top spot of most polpular Bollywood actress.
Amongst sportstars, Sachin Tendulkar and Sania Mirza maintained the first position.
Airtel's research, called Mobitude 2010, is based on 25 million image and wallpaper downloads registered by the operator in the past one year.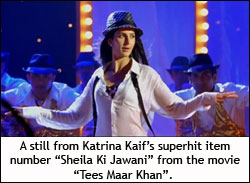 Atul Bindal, the president of mobile services at Bharti Airtel, said, "The findings of Airtel Mobitude 2010 are a true manifestation of what appeals to the Indian masses."
The survey further stated that Munni badnam hui and Tere mast mast do nain from Dabang were the most downloaded songs of the year followed by Pee loon hoton ki sargam, Zor ka jhataka and Gal mithi.
In addition, out of the 90 billion SMSs that were exchanged in India on Airtel's network, Diwali alone saw the exchange of 12 billion. Last year, the most messages were exchanged on New Year.