Royal Enfield Himalayan, an adventure touring machine, launched in India in 2016. Since then the motorcycle has suffered some early production issues with the quality of parts, which were not up to the mark. Later in 2017, the Royal Enfield has introduced the new BSVI model and claimed that the bike willdeliver a trouble-free motorcycle.
Recently we have driven the Royal Enfield Himalayan to the Leh, Ladakh via the Manali route, which is famous for its difficult terrains, off-road and river crossing, a perfect location to test out the Himalayan. We were amazed by the motorcycles comfort and performance until we hit the Zing-zing-bar river crossing whichsituated 18 km before theBara-lacha-la on the Manali to Leh road.
At this particular location, our Himalayan betrayed us. The engine's temperature dropped down to 13-degree Celsius ( as seen on the instrument cluster), due to the cold weather, which resulted in extra clutch tightening. Though the machine is specially designed for the Himalayas, it is not able to bear the weatherconditions of the mountains. This is a major drawback of the bike.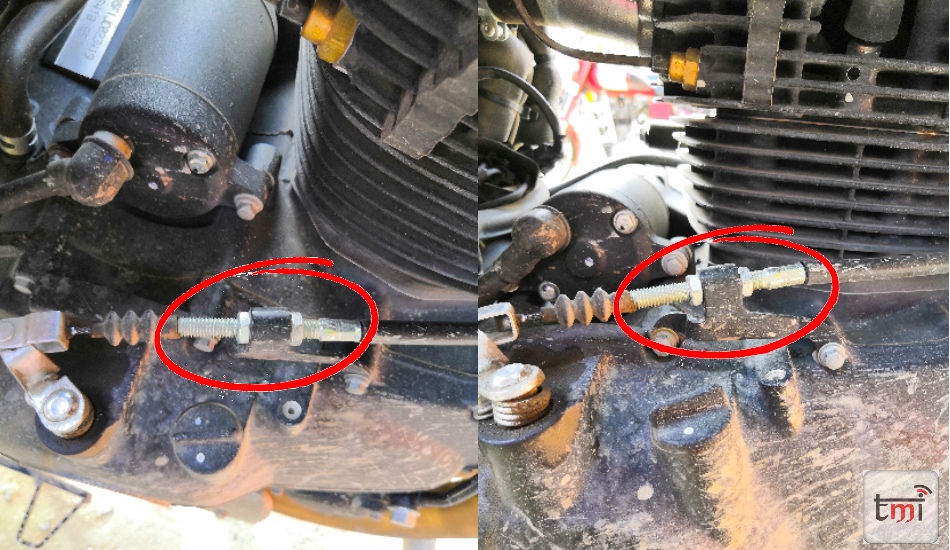 Clutch Wire (Right Profile)
If you are a Royal Enfield Himalayan owner, you must have felt the problemwith the hardening of clutch in the winters season. And in our case, since the bike was from Delhi we had adjusted the clutch according to the city's temperaturecondition, but later when the motorcycle was in Leh,the machine was not able to shift gears and move forward, as if the clutch plate was broke.
So next time when you ride the Himalayas with the Himalayan, always remember there are three ways to solve such issues, first is to pour some hot water on the clutch wire, which can be seen on the right side of the engine, second is to light a fire next to the motorcycle, and third easiest methodis to just loose down your clutch wire (can be found on the right side of the engine). Since our team was aware of such problems, we were easily able to fix the bikeusing the third trick and were all good to go.
Recollection some of the Royal Enfield Himalayan key-specifications, at a price tag of Rs 1.67 Lakh (ex-showroom), it is powered by a 411cc displacement, single cylinder engine. Which is claimed to chunk the maximum power of 24.83 PS at 6500 rpm with the 32 Nm of peak torque at 4250 rpm.