Research In motion has announced the launch of their latest innovation – the BlackBerry Music application. With the use of the BlackBerry Music application, BlackBerry smartphone users will be able to share and showcase their selected music with fellow BlackBerry Messenger or BBM users without having the need to use any third party application.
This application works in tight integration with the BlackBerry Messenger and all the friends added to the BBM will automatically be added to the BBM music list if they have enrolled for the BBM music service.
With this service, BlackBerry users can select and choose up to 50 personal favorite songs from the BlackBerry music catalogue and make them as their default music catalog for their BBM for others to listen and explore. Other users can simply see, listen and even use the very same song to make as their own in their personal BBM music catalogue.
This list is not a one shot selection list as users will get the chance to shuffle or renew their playlists with up to 25 new songs every month. Along with this, users will also get access to their music even when they are not connected to any wireless network or Internet through WiFi.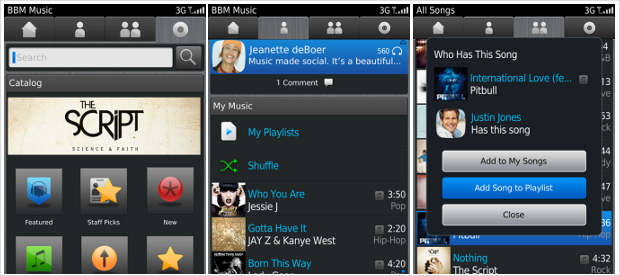 As of now the BBM music is being offered as trial software with a 50 song catalogue for up to 60 days and later on it will be converted to a paid service.
Users who want to use the BlackBerry BBM music service can download it via the BlackBerry app store application on their device or can simply follow this link to update the application via both the PC and smartphone.