Canadian handset major, Research In Motion (RIM) has joined hands with Aircel for exclusive data plans for its Bold 9790. RIM on Thursday had unveiled the Bold 9790 along with two other smartphones &#151 Curve 9350 and Curve 9380 for the Indian market. All the three handsets are based on the new BlackBerry 7 operating system.
"Aircel subscribers who purchase the new BlackBerry Bold 9790, when it will be available in in the market from first week of December, will get the smartphone under exclusive tariff plans from the operator," said Krishnadeep Baruah, director of marketing for India at RIM.
Elaborating the plan, he added, "Aircel's pre-paid and post-paid subscribers will get unlimited access to Blackberry services including BlackBerry Messenger (BBM), email services and browsing free for two months and after that they need to pay just Rs 299 for availing the same unlimited BlackBerry services on their handset."
NFC (Near Field Communication) kiosks will also be set exclusively in Aircel stores where Aircel's Bold 9790 users can download music, games and other apps for free simply by tapping their device on SmartPoster tags, said Baruah.
An Aircel spokesperson, while confirming the deal, said its subscribers who plan to buy the new BlackBerry Bold 9790 will have to make an upfront payment of Rs 27,470 and exclusive data will be activated on their handsets.
The exclusive tariff offering by Aircel is a good deal as compared to what other telecom companies including Airtel, Idea, Tata Teleservices, RCom, BSNL and MTNL are offering. But the only catch is that Aircel is offering the Rs 299 plan only for the Bold 9790.
In the postpaid category, Rs 299 plan is the cheapest offering which almost all the operators are giving in which users get unlimited access to BlackBerry Mail and Blackberry Messenger services only.
Airtel, Idea, Vodafone, BSNL, Tata Indicom, Tata Docomo and RCom are the major operators who are offering this plan as of now.
Another plan which is quite popular among the postpaid BlackBerry users is the Unlimited Internet plan for Rs 599. Most operators offer benefits of the above mentioned plan plus unlimited Internet access, which can only be accessed on a BlackBerry device and not via any laptop.
Under the unlimited plan, BSNL has the cheapest offering Rs 362 for 2G data and also offers a Rs 499 plan that includes 2 GB of 3G data also. Here the new tariff plans from Aircel is a clear cut winner.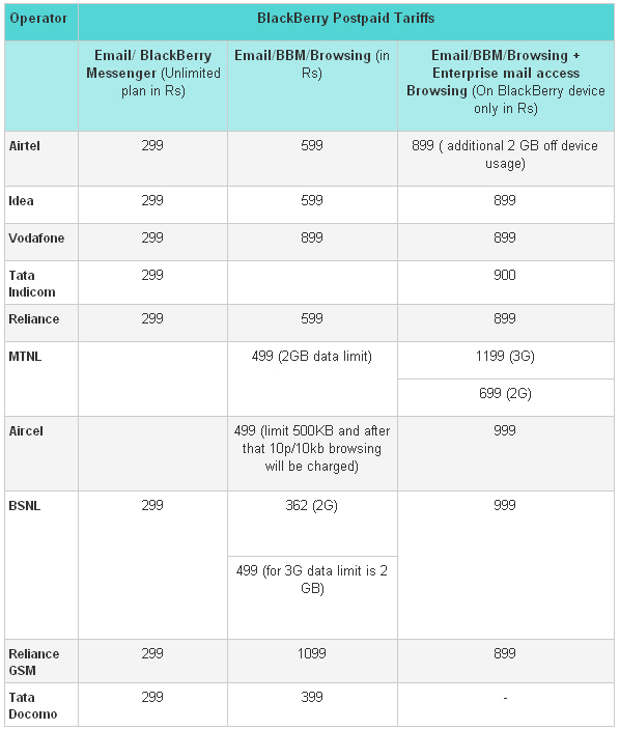 The prepaid plans are almost identical to that of postpaid schemes. For prepaid, however, the choices are fewer.
BSNL boast the cheapest plan under this category at Rs 271 per month in which users can use the email and BBM facility. Airtel, Idea, and Tata Docomo offer the same benefit for Rs 299.
Almost every service provider including Airtel, Vodafone, RCom, Tata Docomo and Idea offer services (email, BBM, Browsing) for Rs 399 per month. MTNL is the only operator that had a data limited plan with 2 GB free data for Rs 499 per month. But, Again Aircel's tariff for Bold 9790 is a clear winner.
Aircel is offering value for money in the new tariff plan for Bold 9790 but it would better if it extends this offer to other BlackBerry device owners also since to avail the offer of Rs 299 data plan shelling out Rs 27,490 is not possible for everyone.