Reliance Jio has improved its 4G download speeds and it is again on the top of the list, as per the data released by Telecom Regulator of India's (TRAI) MySpeed application. The report also highlights that Idea Cellular has the highest upload speed in the country.
According to the data released by TRAI, Reliance Jio average download speed is 22.3Mbps, which is up from 19Mbps in May 2018, 14.7Mbps in April 2018, 18.7Mbps in March, and 21.3Mbps speed in the month of February.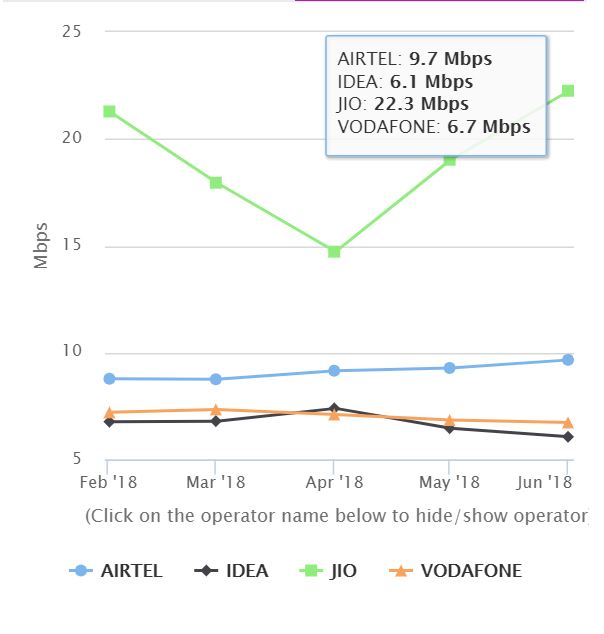 On the other hand, Airtel takes the second position with a download speed of 9.7Mbps, which is marginally better than 9.3Mbps in May, 9.2Mbps in April which is a slight increase from 8.8Mbps in the months of March and February.This is followed by Vodafone and Idea with an average download speed of 6.7Mbps and 6.1Mbps, down from 7.1Mbps and 7.4Mbps in the month of April.
Coming to upload speeds, Idea Cellular leads the way with 5.9Mbps followed by Vodafone with 5.3Mbps. Reliance Jio is in third place with an average upload speed of 5.1Mbps, while Airtel took the last position with 3.8Mbps of upload speed.
Previously, Bharti Airtel has topped the 4G download speed test in the Delhi NCR region, according to the latest report released by Telecom Regulatory Authority of India (TRAI).
TRAI conducted Independent Drive Tests (IDT) through its appointed in Delhi License service area including Ghaziabad, Noida, Gurugram and Faridabad. The report highlights that Airtel is offering4G download speed of 8.9Mbps, which is greater than what Reliance Jio and Vodafone are offering. Reliance Jio is offering a download speed of 7.3Mbps, while Vodafone is offering a speed of 4.9Mbps.