Reliance Jio is currently at the top position when it comes to 4G download speed in India. Idea Cellular is leading the 4G upload speed in the country, as per the latest data released by Telecom Regulatory Authority of India (TRAI).
Reliance Jio recorded a download speed of 20.3 Mbps in the month of November, which is down from 22.3Mbps download speed offered in October 2018. Coming to Airtel, the operator is providing a download speed of 9.7Mbps, which is slightly higher as compared to 9.5Mbps in October. Vodafone and Idea are offering 4G download speed at 6.8 Mbps and 6.2 Mbps respectively.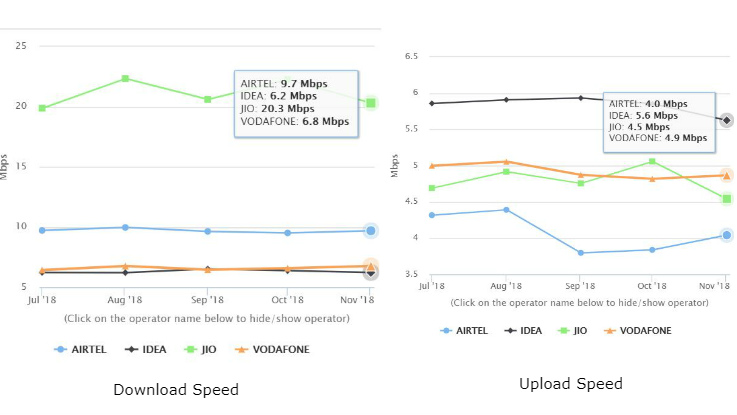 Coming to the upload speed, Idea Cellular is currently the domain with an upload speed of 5.6Mbps. Vodafone is at second position with an upload speed of 4.9 Mbps followed by Reliance Jio and Airtel with an upload speed of 4.5Mbps and 4.0 Mbps respectively.
Meanwhile, Telecom Regulatory Authority of India (TRAI) officially released new sets of rules regarding Mobile Number Portability. The new regulations make way for an easier and simpler switch between service providers since the whole process has been cut short to just two days. At the same time, user-generated port out codes will be functional for a maximum of four days when switching between operator across different circles.