At the India Mobile Congress 2019 in New Delhi, Reliance Jio has introduced the world's first app-less video calling assistant. The Jio Video Call Assistant can be used to improve customer communication and customer support for helping businesses and other users.
Jio says the new Artificial Intelligence (AI) based Video Call Assistant can be accessed via a 4G phone call without needing to install a separate app. The video assistant solution has been developed in partnership with US-based Reliance Industries subsidiary, Radisys which offers open telecom solutions to service providers worldwide.
The AI-based Jio Video Call Assistant can help businesses and other users offer a fast and effortless resolution of repetitive queries from customers for smoother communication and better customer engagement. The video bot uses AI to listen to customers' questions and respond to them and the platform is also integrated with an auto-learning feature for improving answering accuracy.
The company is offering a Jio Bot Maker which allows small businesses to create their own AI-based Bot with no-coding and with minimal effort. The Video Bot can be customised to reach a variety of customer engagement requirements with human-like interactions.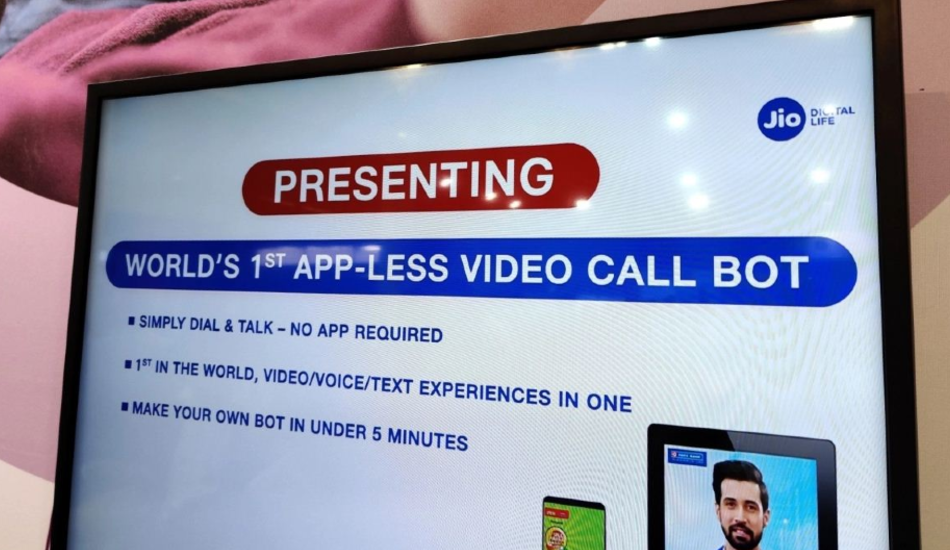 Image Source: DeshGujarat
The AI video call bot will come with multilingual capabilities and companies will have the ability to give unique avatars to the bot to sound like a customer care executive, the CEO, the brand ambassador or any other person.
Speaking about the launch, Reliance Jio President, Mathew Oommen said "Jio is committed to bringing innovative and relevant digital solutions to enable and empower businesses to conduct their operations more efficiently and Video Call Assistant is one such example of bringing a truly innovative and engaging product for millions of businesses in India. Radisys is helping us make AI accessible for everyone so that businesses – small or large can reap the benefits of new and emerging technologies. Radisys' innovation continues to help accelerate Jio's global innovation and technology leadership in the areas of 5G, IoT and open source architecture adoption".
The Jio Video Call Assistant will be available as a solution to all businesses – big or small.