According to a report by a government appointed committee, mobile phone radiation poses a health risk to users. To minimise this risk the committee has suggested certain measures that individuals can take.
The first thing we should keep in mind while buying cell phones is that it has low SAR or specific absorption ratio level, which determines the level of radiation that a phone emits and the lower the level the better it is. SAR is a value that corresponds to the rate at which radio waves are absorbed by the body of a person using a wireless handset.
Current Indian guidelines mention 2 Watt per kg (of user's body mass) as the maximum permissible level of SAR. The government committee has recommended that this be lowered to 1.6 Watt per kg, as prescribed by the Federal Communication Commission of USA.
There are several mobile phones in the market that have SAR value of less than 1 Watt and those are the ones to buy.
Some of the websites where you can find the SAR level of a phone are Motorola's SAR Website; Nokia's SAR Website; Samsung mobile's SAR website; Sony Ericsson's SAR Website; and Blackberry.
If you are unable to find the SAR value of a phone on these websites, and the phone's been released in the United States, you can find its SAR value by searching on FCC's website using the FCC identification (ID) number for that model, which is usually printed somewhere on the body of the phone. In many cases, you will have to remove the battery to find the number. Once you have the number, proceed as follows: Go to Equipment Authorization website. Click on the link for "FCC ID Search"and then you can see the SAR value of your handset.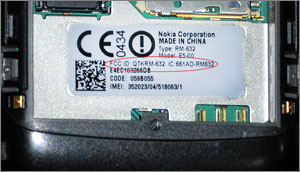 Unfortunately, most Indian cell phone brands such as Micromax, Lava, G5 and Lemon don't have FCC code but according to SARShield.com they have SAR level within the permissible limit of 2 Watt per kg,; while handsets from Nokia, LG, Samsung and similar international makes have much lower SAR levels of 1.6 Watt per kg, as prescribed by the Federal Communication Commission of USA.
Other precautions you can take
While using the phone we should try to keep the conversation short and we should send texts whenever possible. Using a wired handsfree is the alternative, though a Bluetooth headset also produces less radiation than a phone held directly to the ear does.
Another very important point to remember is that cell phones emit more radiation in areas where the network signal is weak, as the mobile phone tries to search for the network. So it's best to avoid phone calls in such areas. Try to use the phone outdoors rather than inside, or move close to a window to make a call, avoid lifts, basements etc. While at home or in office you can always use a landline or wired phone, which don't emit any radiation at all.
The government report has also identified children, pregnant females and people with implants such as pacemakers as the most vulnerable group. These people should take precautions like keeping the phone away from implants; and the abdomen in case of pregnant women.
Children seem to be the worst hit by the extreme use of cell phones. It has been claimed that there is a 400 per cent increase in risk of brain cancer among teenagers using cell phones for long periods. The younger the child, the deeper is the penetration of electromagnetic radiation as children have thin skulls.
Even for healthy adults it is advisable that they should keep the phone away from sensitive parts of their body such as eyes, chest and testicles.