Alongside the launch of the Realme XT smartphone with a 64-megapixel camera, Realme has also disclosed the Android 10 update roadmap for its smartphones. Android 10 will thus start rolling out to Realme phone as early as the first quarter of 2020.
The news comes directly from Realme's official Twitter account which revealed that Android 10 update on its phones will start from Q1 2020. The company has also shared a detailed rollout schedule by listing 8 Realme phones that will get the update.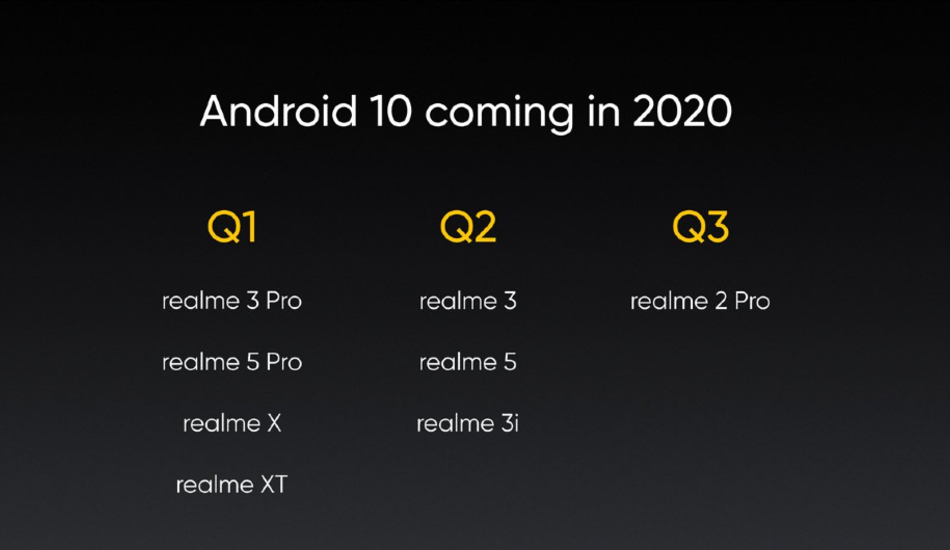 These phones include the Realme 3 Pro, Realme 5 Pro, Realme X and Realme XT which will receive the Android 10 update in the first quarter of 2020.
The Realme 3, Realme 5 and Realme 3i will later be rolled out with the update in Q2 2020 while the Realme 2 Pro comes last in the list and will get the update in Q3 2020, probably a year after Android 10's launch.
Android 10 will bring features like System-wide Dark mode, Suggested Smart Reply actions, New Gesture navigation, Live Caption, Limited Location sharing, Security updates through Google Play and more. If you wish to read more about the update, you can check out the 10 things you should know about Android 10.
It's important to note that Realme hasn't mentioned anything about the Android 10 update on the Realme 1, Realme 2, Realme C1, Realme U1 or the Realme C2. That is interesting since it's only been a year since Realme entered the market and most of the phones in its catalogue are less than a year old.