Qualcomm introduced its mid-range Snapdragon 712 Mobile Platform with Quick Charge 4+ technology earlier this month and now the American chipset manufacturer has announced the introduction of its second generation 5G-based modem – the Snapdragon X55. The latest modem chip offers better 5G technologies and is designed to offer download speeds of up to 7Gbps.
The Snapdragon X55 5G modem is a 7nm chipset which supports 5G NR mmWave and sub-6GHz spectrum bands. This allows devices powered by the chipset to achieve download speeds of up to 7Gbps and upload speeds of up to 3Gbps. In addition to that, the X55 also comes with better LTE speeds of up to 2.5Gbps when downloading data.
When using on a mmWave network, the X55 will be able to extract a bandwidth of 8000MHz through 2×2 MIMO technology and 100MHz bandwidth when on a sub-6GHz mode. Additionally, it supports the Stand Alone mode which will wait for the moment till a 5G network is available.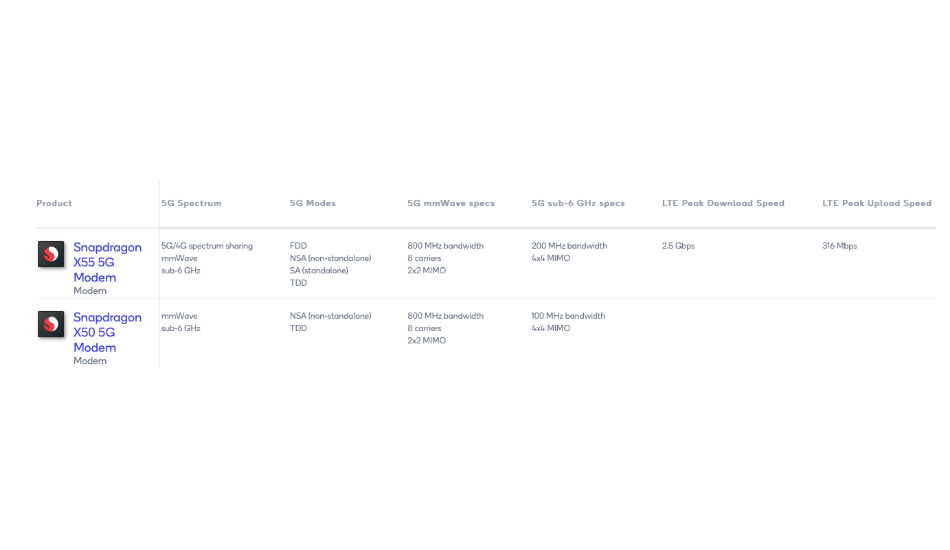 With Snapdragon X55, devices no longer need support for the chipset to connect it to the internet. For instance, the Snapdragon X50 is dependant on the Snapdragon 855's support for LTE, the latter which was unveiled in December last year. The X55 is designed to support all major frequency bands and will offer smooth spectrum sharing between 5G and 4G, thus allowing ISPs to deploy 5G networks faster.
The Qualcomm Snapdragon X55 is expected to be available on commercial devices before the end of 2019.