Qualcomm unveiled the Snapdragon 850 Mobile Compute Platform during the Computex 2018 event, promising as much as 30 percent boost in performance over devices running on Snapdragon 835. The upcoming SoC is not one for the future generation of smartphones but is instead designed to power Windows 10 machines, especially the low-power LTE-enabled slim notebooks which run Windows 10 S.
Benchmarks of the Snapdragon 850 have apparently leaked revealing that there will be some performance upgrade over the last generation of mobile computing chip, but not a major change. Spotted first by WinFuture, the new SoC doesn't seem to deliver its promise and when pitted against the Asus Nova Go, indicated there is no breakthrough difference between the two.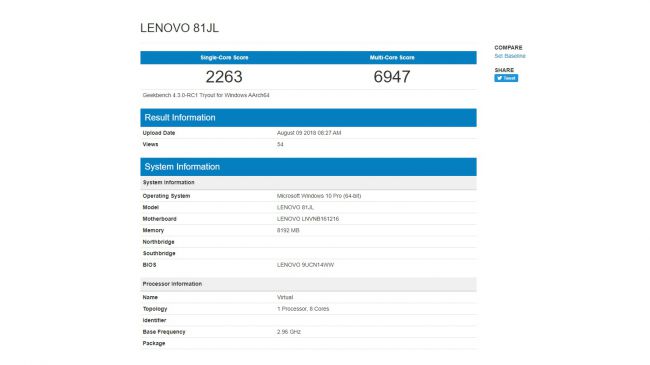 The results come from a Geekbench listing of a Lenovo device modelled as 81JL which employs the new Snapdragon 850 chip and is compared to the results of the Snapdragon 835 on the Asus Nova Go. There is a significant improvement in single core test which resulted in 2263 points for the Lenovo machine in contrast to the 1802 points on the Nova Go, a 25 percent performance gain to be precise, yes. But multi-core performance, which is the key to any CPU test came out underwhelming. When put against the Asus device, the SND 850 scored 6947 points to SND 835's 6475, that's a mere 7.3 percent boost for the new chipset.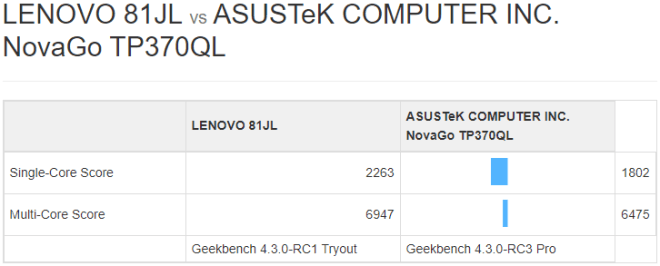 Although any kind of increase in performance is a welcome change, we can expect to not expect much from the upcoming Snapdragon processors since these benchmarked results show that there isn't a leap in performance we should look forward to. However, it's to be noted that these are still early unverified benchmarks and there might still be some room for improvement that Qualcomm and Microsoft could be jointly working on. Other factors that could have played a hindering role in this benchmark could be lack of software optimisations or incompatibility with other hardware elements of the Lenovo notebook. So it's best left if you take this news with a pinch of salt till we actually get our hands on a Snapdragon 850-powered device.