We expected it to host an event and launch something related to sound and Qualcomm has delivered a new product. The American chipmaker has announced its new QCS400 SoC range with the launch of the Qualcomm QCS403, QCS404, QCS405 and QCS407 chipsets for next-generation smart audio devices.
The new line of QCS400 SoCs will make way for a combination of immersive audio and on-device artificial intelligence which will make using a smart speaker better all around the house. The QCS400 series will offer an improved battery life, audio quality and new level of voice control in contrast to prior technologies.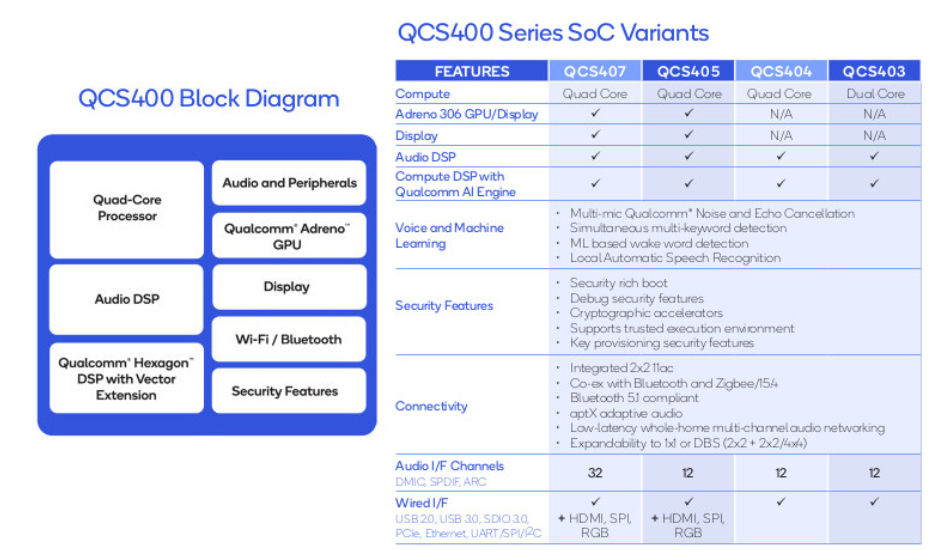 The QCS400 chips will be able to detect voices in noisy environments and will be able to understand and execute multiple trigger commands. The same chips which will be available in their AI forms will also offer support for dual DSPs, Dolby Atmos. The Qualcomm AI Engine offers support for myriad neural network frameworks including Tensorflow, PyTorch and ONNX, as well as the Qualcomm Neural Processing SDK for easily executing AI algorithms on the device.
Additionally, the new audio chips will come with Wi-Fi and Bluetooth Support for Qualcomm aptX Adaptive devices in order to offer low-latency audio streaming. The chips also support up to 32 channels of integrated audio processing, support for Dolby Atmos immersive audio and DTS:X as well as compatibility with Qualcomm DDFA amplifier technology and aptX audio.
As for the individual chips, the Qualcomm QCS407is made for audio/video receivers and the QCS405 is devised for soundbars, home theatres, and smart speakers. Both chips offer quad-core AIE processors with Adreno 306 graphics, dual Qualcomm Hexagon DSPs. The more inexpensive QCS403 and QCS404 are designed for integration into smart speakers and assistants as they offer quad-core CPUs clocked at 1.4Ghz with support for Zigbee protocol and Bluetooth 5.1.