Back in December last year, Paytm launched its 'Paytm Postpaid' service for users to purchase now and pay later. But from what it looks like, the end of Paytm Postpaid appears to be getting close.
Months after being investigated for involvement in a scam, Paytm is closing in on discontinuing its Paytm Postpaid lending business. The news comes through a report from Entrackr who tried using the service on Paytm but were instead greeted by a message which read "Paytm Postpaid Services have been disabled now and you will not be able to transact using Postpaid anymore".
Paytm confirmed that the service was "entirely discontinued" through its official Paytm Care account on Twitter while replying to some of its users. Several users have taken to Twitter to complain that Paytm never notified them about the termination of the Postpaid service.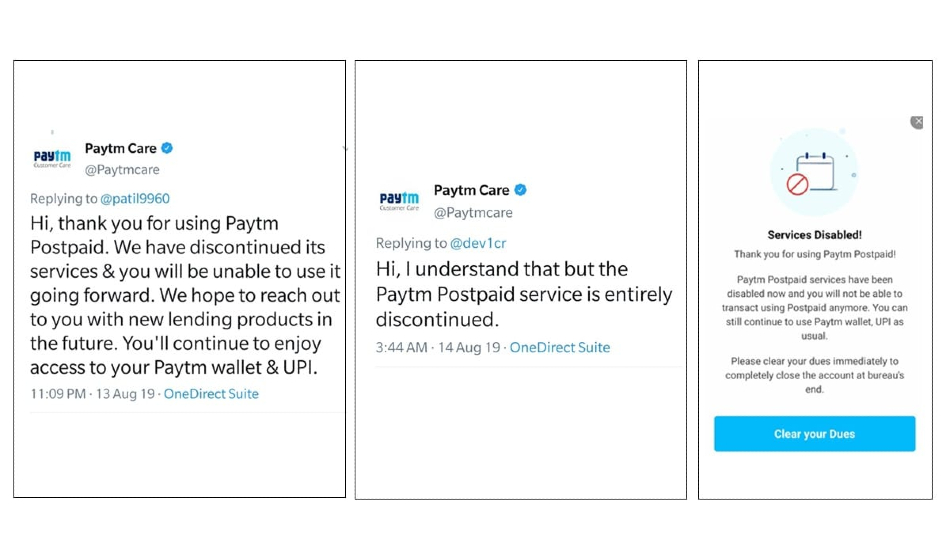 However, Paytm had the opposite to say when it cleared the air about the situation and said that "Paytm Postpaid is Active and in use". In a blog post this evening, Paytm informed that Paytm Postpaid is active and operational.
What's interesting is that the company also hinted plans to increase spending limit depending on a user's payment behaviour. Paytm has also confirmed the development through its official Twitter account, just hours after its subsidiary Paytm Care handle tweeted about the service's discontinuation. However,the tweet has since been deleted but we have a screenshot of the same.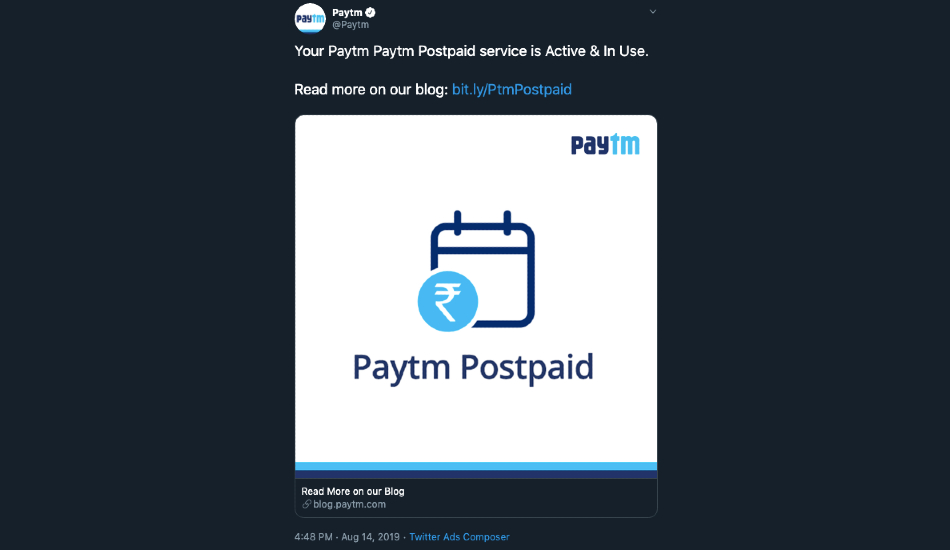 Paytm has also explained that Paytm Postpaid might have been inaccessible by some users because of several pending KYC requests. The service is expected to resume once KYC is completed on your account.
While that might explain the unavailability of the postpaid service for some, it doesn't explain why the company's customer care prematurely announced the end of its money lending service. Paytm has reportedly been running not issues with RBI over the money lending service and the situation has only gone unexplained after the company transferred its postpaid service to Clix Capital.
Prior to this, Paytm launched the Paytm First Credit card service in partnership with Citi bank back in May. The service provided customers with an unlimited one percent cashback without any restrictions which will be auto-credited to the card every month. The presence of a credit card service explains Paytm's dilemma for continuing its operations with Paytm Postpaid. We're just not sure for how long.