Paytm has launched 'Paytm Postpaid' service which allows users to spend now and pay next month. Now one can do mobile & DTH recharge, book a movie ticket and shop on Paytm without using a card or bank details or frequent wallet top-ups. It will work like the way credit card works, where you have predefined limit and at the end of the month you would have to pay the bill.
The new service by Paytm will basically allow users to spend using Paytm Postpaid by making multiple purchases and pay it back the same amount next month. The amount spent will be at zero cost or interest. Paytm is allowing up to Rs 60,000 as spend limit.
The payments will be hassle-free and will not require any OTP or PIN. In case of cancellation of the order, the amount will be refunded instantly to a user's account. Customers will have to make a payment by the 7th of next month.
The Paytm also says that on using the Paytm Postpaid service, users will also get exclusive rewards offers like movie tickets, cash-back among others.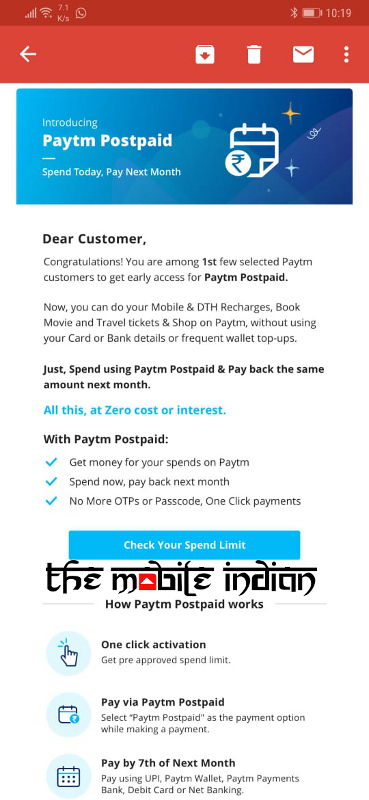 In a mailer to select customers, Paytm said, "Congratulations! You are among 1st few selected Paytm customers to get early access for Paytm Postpaid. Now, you can do your Mobile & DTH Recharges, Book Movie and Travel tickets & Shop on Paytm, without using your Card or Bank details or frequent wallet top-ups."
To activate Paytm Postpaid service, you have to first log into your Paytm app. When you click on the Paytm Postpaid, you will see a list of features with 'Activate My Paytm Postpaid' option. On activating it, one can see his or her Paytm Postpaid limit as per their spending habits.