Opera Software and Idea Cellular together announced a new 'pay as you use style' service for mobile phone owners. Named as Idea Web Pass, it can be purchased from within the Opera Mini browser through the Speed Dial shortcut. As its name suggests, Idea Web Pass allows Idea users to enjoy internet on their mobile phones on daily or weekly basis.
Opera Software is quite known for its amazing Opera Mini mobile web browser that is available for entry level mobiles to premium smartphones. The Opera Mini mobile browser promises faster mobile experience powered by its proprietary data compression technology. This technology basically compresses the requested web page on Opera's servers and pushes a data efficient version on user's Opera mini browser on the phone.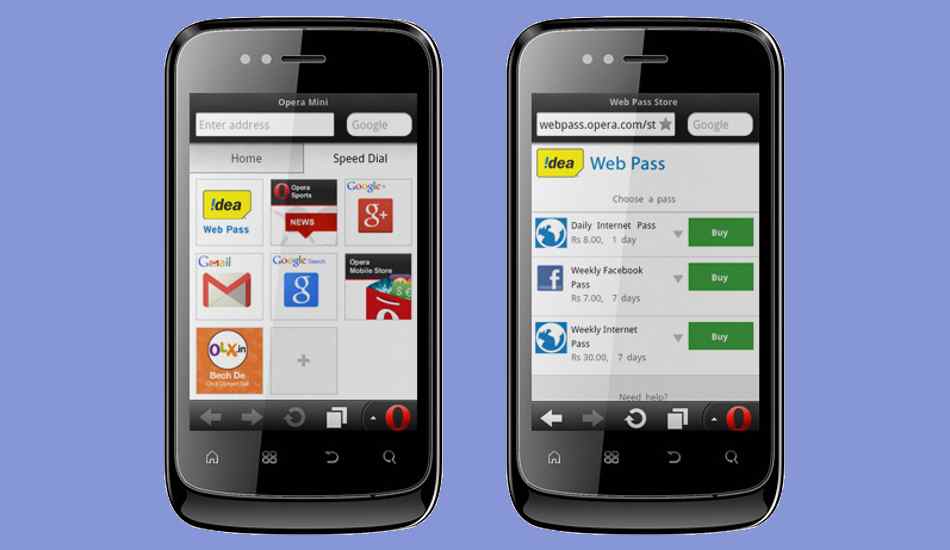 The Mobile Indian had reported about the Opera Web Pass service in the past. The idea of the Opera's Web Pass service is to offer a Pay As You Use model for the user to access select websites or unlimited browsing through Opera mini for a day or a week.
Idea Web Pass brings three basic packages. Users can choose a Daily Internet Pass that costs Rs 8 per day which equates roughly about Rs 240 per month if used regularly. The best part is that one can buy the Daily Internet Pass on requirement basis.
Facebook users can enjoy access to the social network for a week through the Weekly Facebook Pass for Rs 7 with a validity of week. That equates to about Rs 28 per month. While the Weekly Internet Pass allows access to any website at Rs 30 per week which equates to Rs 240 per month.
One of the essential requirements is that the users need to buy the Idea Web Pass through the Opera Mini mobile web browser.