Ola will soon be the world's first ride-hailing company to introduce digital credit payment as it plans to offer its Ola Money Postpaid service in India after receiving tremendous response from customers in the beta phase. The service was launched last year as a pilot and Ola says it has registered a growth of 30 percent on a month-on-month basis.
Ola Money Postpaid offers a 15-day credit line and can be enabled and used in a single click without needing to enter a password or OTP to process a payment. At present, Ola Money Postpaid is being used by more than 10% of Ola customers and has very promising repeat usage rates. 90% of the early adopters have used the offering more than once.
The service lets you pay for all your spends at once every 15 days and you can then settle the bill very much like any other postpaid utility bill. There aren't any fixed charges as consumers will only have to pay for the rides they make use of. In order to activate your Ola Money Postpaid, you'll need to log in to the Ola app on your smartphone and click on the 'Payments' option. From there, all you need is to tap on the 'Ola Money Postpaid invite' button and then you can proceed by clicking on "Get Started".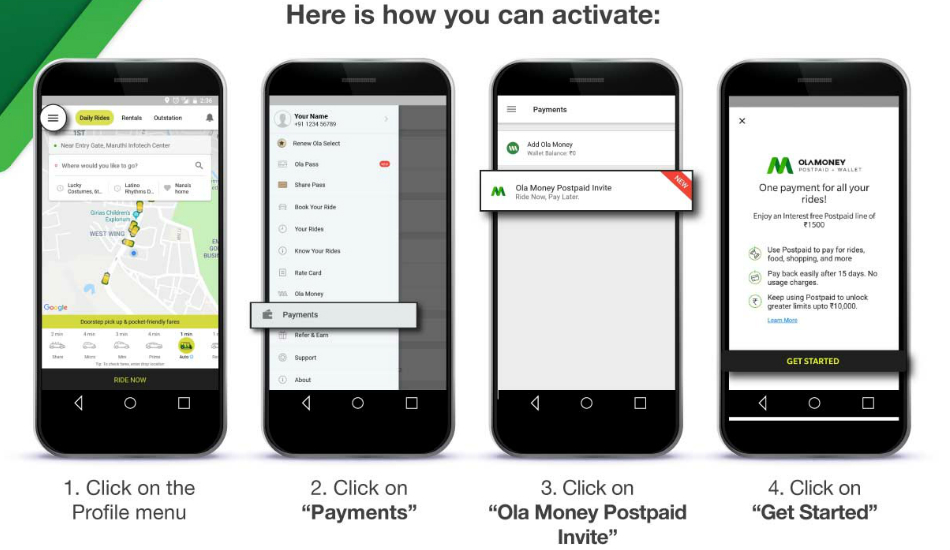 Speaking about their initial customer feedback of the service, Ola Financial Services CEO, Nitin Gupta said "At Ola, we are focused on innovating and building solutions that ensure a seamless digital experience for millions of users across the country. Ola Money Postpaid is an innovative, world's first offering that was launched post taking into account learnings and user experience of other modes of payment. The response has been phenomenal and more and more Ola customers are already making Ola Money Postpaid, their preferred choice of payment".
Gupta further added by saying "Ola is dedicated to supporting the Government's vision of a cashless economy and we are committed to being a major force in India's rapidly growing digital payments market. We will continue to invest in innovative solutions that promote the digital economy across India while extending the benefits of this first of its kind Postpaid offering to more Indians".
Ola Money Postpaid will soon be available for more than 150 million users of Ola in the coming months.