Just months after launching a new RTX line of GPUs with real-time ray-tracing technology, NVIDIA has now announced a new top-of-the-lineTitan RTX graphics processor which is a full -size chip based on NVIDIA's all-new Turing architecture. The new NVIDIA Titan RTX graphics will be available for an asking price of $2,499 (approx. Rs 1,76,000).
The Titan RTX features 4,608 CUDA cores with 72 Turing RT cores, significantly up from the 4,352 and 68 cores on the RTX 2080 Ti graphics unit. The GPU covered in gold comes with a large 24GB of GDDR6 memory, which is more than twice as that of the RTX 2080 Ti, enabling the device to process on bulk amounts of data simultaneously.
The graphics unit wouldn't be a consumer-ready card and will be built specifically for decimated gamers, workstation users or AI researchers. It packs in 576 multi-precision Turing Tensor Cores which is expected to deliver up to 130 teraflops of deep learning performance. The 24GB of VRAM will be helpful on processing 672GB/s of bandwidth, that's twice as much as NVIDIA's last generation TITAN GPUs.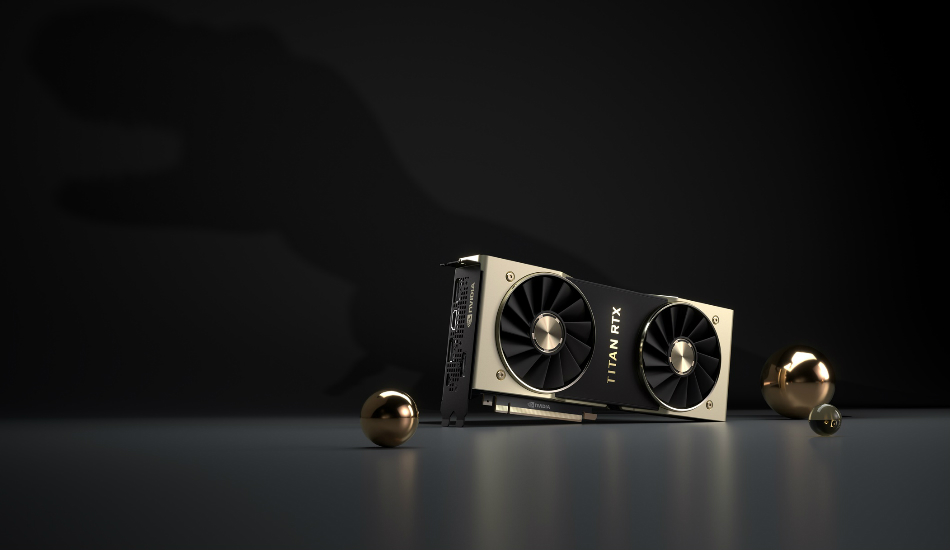 NVIDIA looks to have aptly codenamed the chip as "T-Rex" after assembling the RTX in the title. The new GPU will be able to offer better performance in real-time ray tracing through the 6 percent boost in CUDA and Tensor cores that it's much affordable RTX sibling.
While the power connector remains the same for the RTX Titan, the latest chip will consumer a total of 280-watts of power, 2- watts more than the RTX 2080 Ti. The RTX Titan also features an NVLink connector, enabling users to utilise two GPUs at the same time. The graphics unit will play a major role when editing multiple 8K videos and also for playing content on next-generation VR headsets.
The NVIDIA Titan RTX will be available for an asking price of $2,499 (approx. Rs 1,76,000) sometime later this month.