At Gamescom 2018, NVIDIA has launched a new GeForce RTX range of GPUs – RTX 2070, RTX 2080 and RTX 2080 Ti; based on the new Turing architecture that focuses on real-time ray tracing technology and application of artificial intelligence. The new bunch of graphics cards come in original and Founders Editions for a starting price of $499 (approx. Rs 34,700).
The new graphics cards succeed the Pascal generation GTX 1070, GTX 1080 and GTX 1080 Ti and this time around NVIDIA hasn't wasted a moment to announce the Ti version of the RTX 2080 as it's now out with the original RTX 2080 GPU. The RTX series employs real-time ray tracing technology to create realistic graphics using new means of lighting and rendering objects. This will thus add a sense of realism to shadows, reflections and refractions.
The technology has previously been used in 3D animation content like animated movies and adding visual effects to other films. This along with Deep Learning Super Sampling (DLSS) that uses Artificial Intelligence will be able to learn to work on individual pixels which will, in turn, produce smooth and crypts edges on objects while playing games.
Performances-wise, the new RTX series will be able to achieve six times more power in contrast to the last generation of GPUs with support for games at 4K HDR and 60fps frame rates. The RTX 2070, which happen to be the base variant will be able to offer 8 Teraflops with 6 Gigarays per second, meaning the graphics card will be able to compute 45 trillion RTX operations at the same time. All three RTX cards will come with at least 8GB of GDDR6 memory on a 256-bit bus and will be rated at 185W.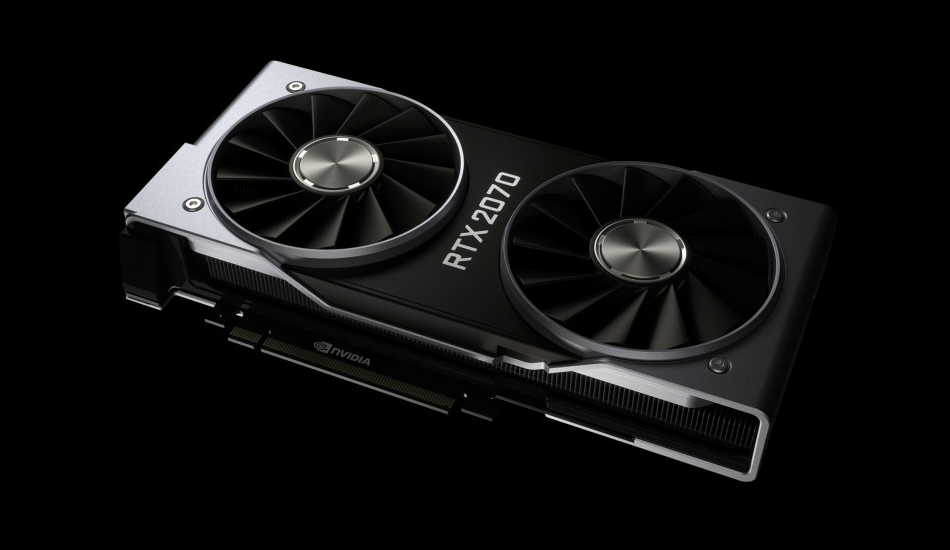 The company has also devised Founders Editions of each of these three cards with additional features like factory overclocking, diecast aluminium cover, dual 13-blade axial fans and DisplayPort 1.4a with 8K HDR at 60Hz support over a single connector. NVIDIA is working with game developers EA, Epic Games, Square Enix to produce more content with ray-tracing technology. A few of those games include Shadow of the Tomb Raider, Battlefield V, Metro Exodus, Control and Assetto Corsa Competizione.
The NVIDIA RTX 2070, 2080 and 2080 Ti will be available for asking prices of $499 (approx. Rs 34,700), $699 (approx. Rs 48,600) and $999 (approx. Rs 69,500) respectively. The Founder editions of the same will retail at $599 (approx. Rs 41,700), $799 (approx. Rs 55,600) and $1,199 (approx. Rs 83,400) respectively. All cards will be available by the end of October with the RTX 2080 and 2080 Ti coming earlier on September.