The Indian telecom industry is not witnessing a negative growth as was reported by media on the basis of TRAI's data for the month of July.
Yesterday, TRAI came out with figures for Indian telecom industry for the month of July. According to the data, the total number of subscribers active and inactive) has been reduced by 20.71 million, which is the first ever negative growth for the industry.
However, a closer look at the data suggests otherwise. The reality is that the actual (active) user base grew by close to 2.2 million and reached 698.06 million subscribers in July against as against 695.82 in June and 689.33 in May.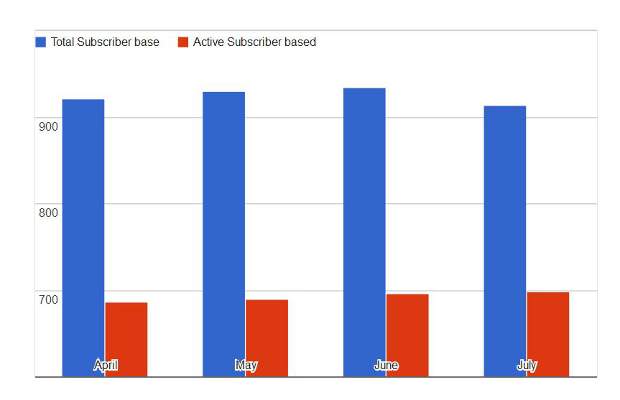 While the growth in active subscriber base has also slowed down but it has not stopped growing as is made out to be by the COAI (operator lobby) which in a statement said, "The decline in the number of mobile subscribers depicts the uncertainty the telecom market is witnessing right now and calls for a concrete policy by the government to address the issue."
Of course, uncertainty has to some extent has indeed affected the market, and has resulted in slower growth in actual subscriber addition (active subscriber).
However, the reason for the slow growth is that now telecom operators realise that reporting big subscriber additions no longer makes much sense to investors who are instead looking at average revenue per user (ARPU) data.
So they have now started to remove inactive subscribers from their books which in turn automatically increases ARPU, as lesser number of subscriber contribute to same revenue (inactive subscriber don't contribute anything), thus increasing the average.
The case in the point is Reliance Communication which had only 66.63 active subscribers in June which went up to 76.01 percent in July. However the teleco reported a loss of more than 20 million subscribers in the same period