Netflix has officially announced that it's terminating support for Apple Airplay on iOS owing to technical limitations. This means Netflix on iPads and iPhones will no longer support Airplay which previously allowed users to mirror their streams directly onto a TV or another screen.
Airplay on iOS was launched back in 2013 and it allowed users to instantly share whatever they're watching on their iPad and iPhone directly on their TV, essentially Apple TV.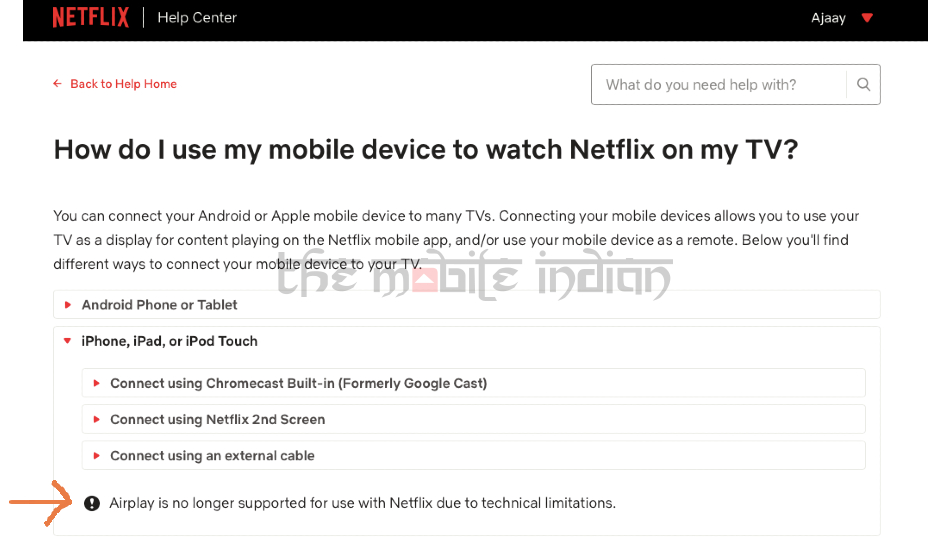 Netflix clarified in a statement by saying "With AirPlay support rolling out to third-party devices, there isn't a way for us to distinguish between devices (what is an Apple TV vs. what isn't) or certify these experiences. Therefore, we have decided to discontinue Netflix AirPlay support to ensure our standard of quality for viewing is being met".
However, there are other ways to access Netflix on TV since Netflix offers its own app on several platforms including tvOS and Android TV as well.
The main reason for such a move comes after the launch of Airplay 2 which has been incorporated by not just Apple TV but also other TV manufacturers inciting the likes of Samsung, LG and Vizio, all of which are now selling TVs with Airplay support.
In other related news, Netflix India has started testing weekly subscription plans in India starting at Rs 65 a week. Netflix is also trying out three more weekly plans – Rs 125 Basic plan, Rs 165 Standard plan and Rs 200 Premium plan. There's also a new Rs 250 per month mobile-only plan on the cards, which will allow subscribers to watch content in standard definition only a mobile screen only.