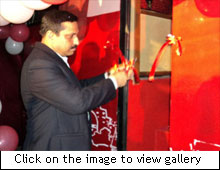 MTS today announced a new customer care initiative 'MTS on Wheels' for West Bengal wherein MTS branded buses are to travel across the state, addressing all customer needs related to voice and data services.
The service, launched in West Bengal, will be a month long activity starting today from Kolkata and will complete its journey at Burdwan in August. MTS has a customer base of 11 lakh in the state.
Keshhav Tiwary, chief operating officer, Kolkata and West Bengal, Sistema Shyam TeleServices, said in a company statement, "This unique initiative was conceived to ensure MTS reaches out to more and more people in the state of West Bengal and provides them with high quality services offered by MTS."
The bus will comprise of all the facilities available to customers at MTS branded retail outlets across the country. There are different zones in the buses viz. instant activation zone, instant recharge zone, display zone, VAS zone, data product zone, customer service zone and play & win zone to cater to customer needs.
Various discounts and gifts will be offered to customers availing MTS connections from these buses. Customers can also avail instant recharge facilities from the recharge zone and take demos from the VAS zone. In the data product and display zone, customers can experience the quality of data services through free browsing and will be given discounts on purchase of data products.
Mumbai-based operator Loop Mobile had introduced a similar service in March which allowed subscribers to activate connections, buy recharge coupons and pay bills at vans positioned in their locality, instead of having to go to a Loop Mobile outlet.