Mobile phone users download images and wallpapers of female actresses more than the male counterparts, according to a survey of Bharti Airtel. The annual survey, called Airtel Mobitude 2012, Katrina Kaif rules the imagery charts followed by Kareena Kapoor.
"Imagery downloads for Tollywood's heart throb Trisha, exceeds that of Bollywood's top 5 leading male actors by 325 per cent," according to the survey, which was conducted on Airtel users in India.
According to the survey, there has been increase in wallpaper downloads by 300 per cent to a whopping 75 million downloads. Notably, wallpaper downloads of female actresses outnumbered the same recorded for their male counterparts by over 6788 per cent. Among sports stars' imagery downloads, master blaster Sachin Tendulkar dropped down to the second rank as Yuvraj Singh claimed the numero uno spot.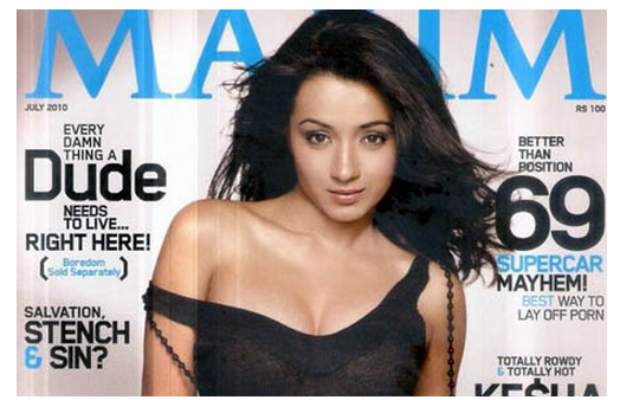 N Rajaram, Chief Marketing Officer – Consumer Business, Bharti Airtel said, "The data, based on the usage pattern of the country's largest mobile customer base, reveals an exciting picture of India's love for movies, music, gaming and social networking. The study also brings to light India's increasing dependence on smart devices and data usage as they access a whole host of new services on the go."
According to the findings of Airtel Mobitude 2012 – India recorded over 150 million music downloads this year. Among actors, Shah Rukh Khan led in the category of Bollywood actors' wallpaper downloads. While Salman Khan and Ranbir Kapoor continue to shine in top 5, Bollywood stalwart Aamir Khan did not fare in this list for the 3rd year in a row. In the Hollywood segment, Kim Kardashian led in the category of images downloaded and also featured in the top 5 Hollywood celebrities.
Popular hit Kolaveri Di (which recorded maximum success ever and triggered 2,10,000 downloads in a span of 18 days last year) continued to maintain the top position in 2012 as well. Though reasonably popular, the worldwide rage Gangnam Style did not experience similar success among mobile internet users in India and could not beat Kolaveri Di's strong local success. The song Teri Meri from Bodyguard ranked second in this segment, lagging behind by 20 per cent.
Dabangg tops charts as the most viewed movie on Airtel Video Talkies, while Singham led on Airtel Audio Talkies. Bollywood blockbuster and epic hit Sholay continues to be an all-time favorite with customers, who till date, are tuning into the audio edition of the movie on Airtel Audio Talkies. Movie inspired games are the new rage in mobile gaming – Agneepath, Spiderman and Agent Vinod games topped charts and left behind popular games Tekken and SoulCalibur.
According to the annual survey, there is a fast increasing customer preference for MobileTV as well. "Within the MobileTV category, IPL viewing minutes jumped a record breaking 74 per cent and viewership increased over 46 per cent from numbers witnessed in 2011," added the survey.
Overall, Facebook, Google and Yahoo were most accessed websites among Airtel users. Google is most visited website in terms of Unique Users, while Facebook leads all sites with almost 10 times Page Views and data consumption.