Mevofit has introduced an exclusive women's only range of fitness trackers with the launch of the MevoFit Slim and MevoFit Slim + HR. The device comes with female-centric features, activity trackers and IP67 water resistance and starts for Rs 2,990 at Amazon and Flipkart.
The highlight of the new Mevofit Slim series comes in the form of its women-centric features which include a period tracker, ovulation tracker and coach feature. While the period tracker precautions them for their coming days including emotional shift, the ovulation tracker helps them plan for their family with an ease. There's also a coaching feature which offers special activities and tips by trainers and dieticians to help remain fit.
Measuring in at 38×11.8×12.8 mm, the Slim series comes with a 0.87-inch OLED screen with customisable clock faces and IP67 water resistance. The trackers are designed with a curved glass finish around the rounded edges with diagonal patterns on the straps to suit the aesthetics.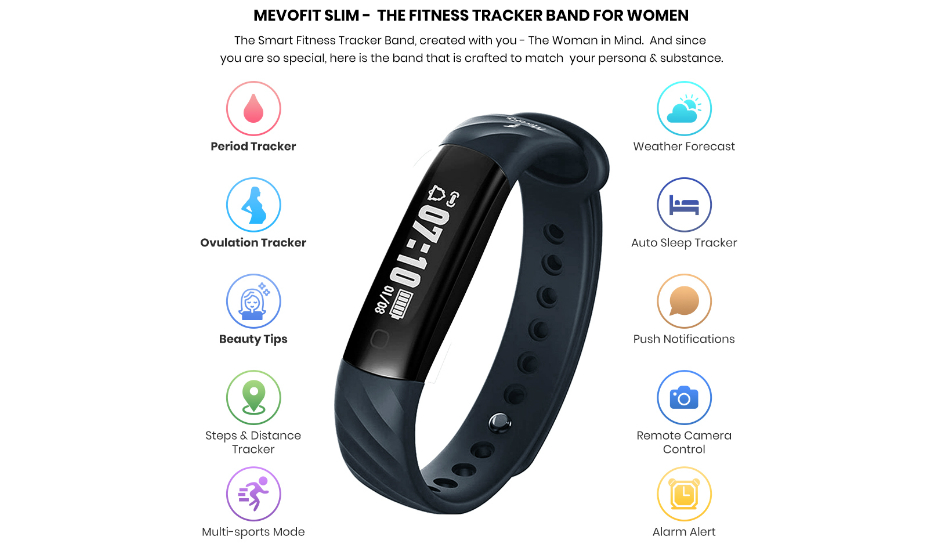 The device offers a multi-day battery life of over 7 days. The tracker keeps count of the steps made, calories burned, distance covered, sleep details as well as activities. While both trackers off the same functionalities, the Mevofit Slim + HR features an inbuilt optical heartbeat sensor that can trace a user's pulse with historical records.
Speaking about their latest products, MevoFit founder Khyati Mahajan said "With our newly launched Mevofit Slim & Mevofit Slim + HR, we aim to bring a new tracking experience to the Indian women who are trendy and demand technology which may help them attain their daily fitness goals. Our slim fitness band will further create a difference in their lives via tracking women-specific health essentials, exclusive to women and intended for women".
The Mevofit Slim and the MevofitSlim+HR fitness trackers are available at Amazon and Flipkart for asking prices of Rs 2,990 and Rs 3,490 respectively.