After a lot of hiccups, bureaucratic hassles, and technical glitches, Mobile Number Portability (MNP) was finally implemented in January 2011.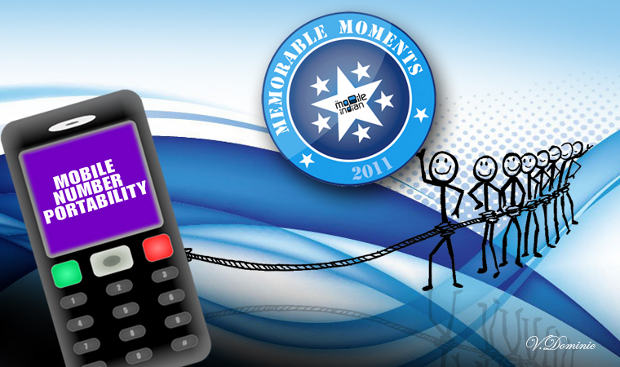 The service was originally scheduled for December 2009, but was finally launched on 25 November 2010 for trial in Haryana. From January 20, 2011 it was extended to other parts of the country.
All said and done, MNP was the most sought after service that Indian mobile consumers were looking forward to as it gave them the power to switch operators while keeping their mobile number. Earlier, for fear of losing their numbers, people often continued subscribing to a certain operator's services despite being dissatisfied with it.
Procedure
A subscriber who wants his mobile number ported (his service provider changed,) will have to send an SMS to 1900 to obtain a 'unique porting code'. After getting the porting code, he will have to submit a duly filled porting form along with a customer acquisition form and a proof of identity to the service provider he wishes to shift to. He will be charged a porting fee of Rs 19.
Upon completing the formalities, the customer will get a new operator's SIM card, and the new operator will inform him of when he can start using it, which should be within seven working days.
After the specified time the subscriber can start using his new SIM. A mobile number porting request can be withdrawn within 24 hours of having been made.
A few things that the subscriber needs to keep in mind while porting are that porting is allowed after 90 days either from the day when an existing number was activated, or from the time when it was last ported.
Before porting, all dues will have to be cleared if it is a postpaid number. If it is a prepaid connection, any talk time that remains in it will lapse.
TRAI's reviewed guidelines
After implementing MNP, TRAI, Telecom Regulatory Authority of India, received a lot of complaints related to porting. To address this issue TRAI came out with a new set of guidelines in May to make it easier for consumers to port their number. A key directive was that operators should not reject a mobile number portability (MNP) request if the amount due from the customer is Rs 10 or less (rounded off to the nearest Rupee). The amount can be adjusted in the customer's next bill.
Before this guideline came into effect, companies had reportedly been rejecting porting requests over outstanding dues of as little as 13 paise. Another reason for porting requests being denied is 'contractual obligation', particularly in the case of premium or vanity numbers.
With the new guidelines, TRAI has ruled that "since numbering is allocated free of charge by the licensor, service providers are not justified in putting any condition for retaining premium numbers under the garb of contractual obligation".
Contractual obligation can be ground for rejection only if a post-paid connection has come bundled with the handset with an exit clause, or if it is a corporate connection with an exit clause and the subscriber does not comply with it.
Journey so far
As per data compiled by TRAI, by the end of August 2011 about 181 lakh subscribers had submitted their requests to different service providers for porting their mobile numbers. Of these requests around 9.7 lakh pertain to Haryana, where MNP was implemented from 25 November 2010.
In MNP Zone-I, which constitutes North and West India, maximum number of requests have been received in Gujarat (17.6 lakh), followed by Maharashtra (14.8 lakh); whereas in MNP Zone-II (South and East India,) maximum number of requests have been received in Karnataka (14 lakh) followed by Andhra Pradesh service area (14 lakh).
In the month of August 2011, more than 25 lakh subscribers had submitted their request for MNP.
Impact
Singapore pioneered in introducing MNP in 1997. Thereafter, countries like Hong Kong, Australia, Europe, Japan, New Zealand and UK implemented it. By virtue of being the fastest growing mobile market in the world, India deserves to have MNP.
Many operators who earlier didn't bother to provide customers insight into types of tariff plans have started doing that, and all in all, MNP in India has resulted in telcos improving their service, customer support and grievance management across networks.