MediaTek has announced the Helio M70 chipset which is technically a modem with support for the upcoming 5G technology. Built on TSMC's 7nm architecture, the Helio M70 will be certified with 3GPP Release 15 standard and will make use of EUV technology to provide transfer rates of up to 5Gbps on downloads.
MediaTek has revealed that it's in talks with Nokia, Huawei, China Mobile, NTT Docomo and other companies for technical cooperation during the mass deployment of 5G solutions around the globe. While the specifications of the Helio M70 remain scarce at the moment, reports suggest that MediaTek will be shipping the chipset to smartphones by 2019 with an increase in production projected to rise as the demand for 5G services increase.
With the 5G modem chip to begin production 6 months sooner than expected, MediaTek's Senior VP and CTO, Zhou Yujun has said that the company had invested in the research of 5G way earlier than what it did with 4G. Yujun further added that this development of 5G solutions will thus help MediaTek to push 5G modems sooner than 4G. The Helio M70 by MediaTek can be expected to be displayed at the IFA 2018 which is set to happen in the coming months.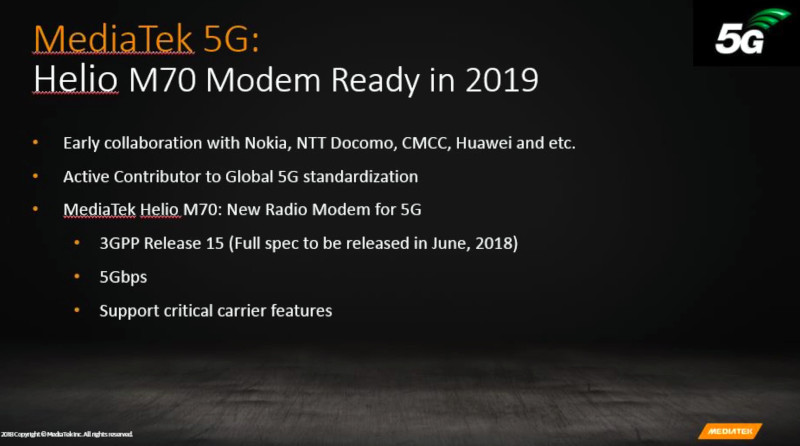 As far as 5G is concerned, Qualcomm announced the first 5G LTE modem at the end of last year with a commercial availability set within Q2 2019. Chinese smartphones manufacturer Huawei which also happens to design its own chipset also appears to be working on the same as it claimed earlier this year that it'll be launching the first 5G enabled smartphone in 2019.
MediaTek recently launched its Helio P22 chipset for mid-range smartphones which the company has confirmed will power four new smartphones that will be coming to the Indian market. With rich enhancements in AI, photography, and connectivity, the Helio P22 faces a tough competition with Qualcomm's latest high mid-ranger Snapdragon 710, both of which were announced earlier last month.