Earlier today, Qualcomm introduced the Snapdragon 710 as the first chipset under its 700-series to bridge the gap between the mid-range smartphone segment and high-end devices. Powered by a multi-core AI engine, the SND 710 is designed to port premium smartphone features to mid-range mobiles with a higher performance and battery life in comparison to Qualcomm's older Snapdragon 660 SoC.
With reduced power consumption and enhanced hardware acceleration, the AI-enabled octa-core SND 710 fits comfortably between the mid-range 600-series and the expensive 800-series and making a similar transition is MediaTek's newest Helio P22 chipset, which was announced a couple of days ago. If Qualcomm made a move to bridge the gap between the 600 and 800 lineups, the latest MediaTek SoC will bump up mid-range smartphones with features found on high-end devices.
With the Snapdragon 710 and Helio P22 already in production, we'll get to see these processors in devices that will get launched later during the year and before we do, let's see how the Taiwanese chipset manufacturer has matched up to its American competitor.
Though both chipsets are the latest ones from Qualcomm and MediaTek, it's the Snapdragon 710 which is built on a smaller 10nm process allowing it to perform better without being power-hungry. The Helio P22, on the other hand, is the company's first budget chipset based on the smaller 12nm FinFET technology made by TSMC. Thus, MediaTek in no way will be able to compete with a 10nm manufactured SoC.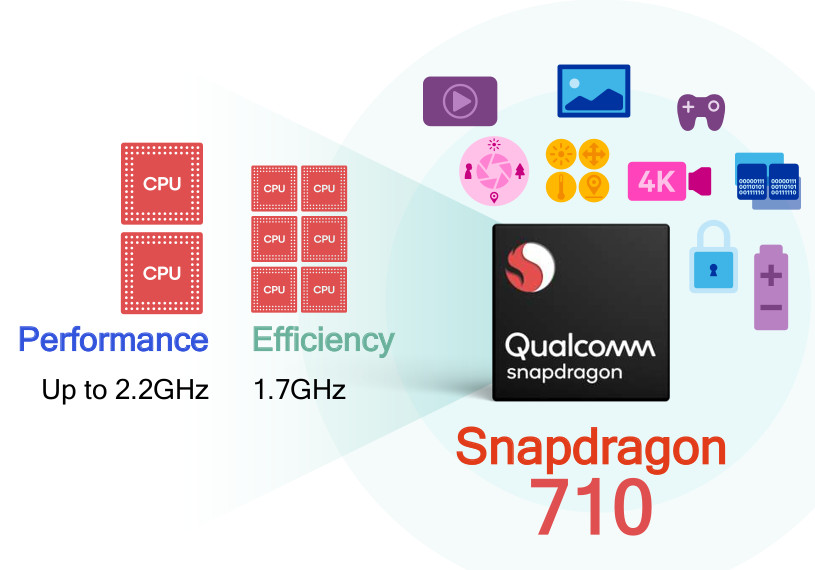 While the Helio P22 comes loaded with eight Cortex-A53 CPU clocking in at 2GHz in total, the setup on the SND 710 is made to feature dual Kyro 360 CPU at 2.2GHz as well as six Kyro 360 at 1.7GHz, the latter being the elements for its power efficiency. The Gyro 360 CPUs also make way for support of up to 16GB of DDR4 RAM while the mid-range P22 processor is stuck with a maximum compatibility of 6GB of RAM.
Both the MediaTek and Qualcomm chipsets come with support for dual camera systems at the back but the Helio P22 is restricted to a single 21MP single camera unit or a 13MP + 8MP dual camera setup. The SND 710 with its 14-bit Spectra 250 ISP will be able to provide better low light images with lesser noise, faster autofocus, all of which is supported by the fact that it's compatible with a larger 32MP single sensor as well as two cameras with 20MP sensors each.
The support for larger sensors also makes room for faster and a more precise autofocus. The Qualcomm chipset will also be able to provide smoother 4K videos at 30 fps with the integrated electronic image stabilization, something that's only seen in the higher-end 800-series chipsets. The MediaTek module on the other hand only allows for 30fps video recording at 1080p. But the Helio P22 makes up in terms of imaging by enabling AI features like smart photo albums and Face Unlock with full support towards Android's Neural Networks API.
In terms of display, both chipsets have made efforts to be compatible with the continuing trend of elongated displays with decoding support to up to H.265 and HEVC videos at 30 fps. The P22 supports a narrow screen with an aspect ratio of 20:9 though at a lowly 720p resolution while the 710 features support for a display with a resolution of up to 2160 x 1080 pixels which could mean a maximum aspect ratio of 18:9. The graphics on the P22 is powered by an IMG PowerVR GE8320 which is clocked at 650MHz while the one on the SND 710 is the latest Adreno 616 GPU, the latter consuming 40 percent less power when playing a 4K video.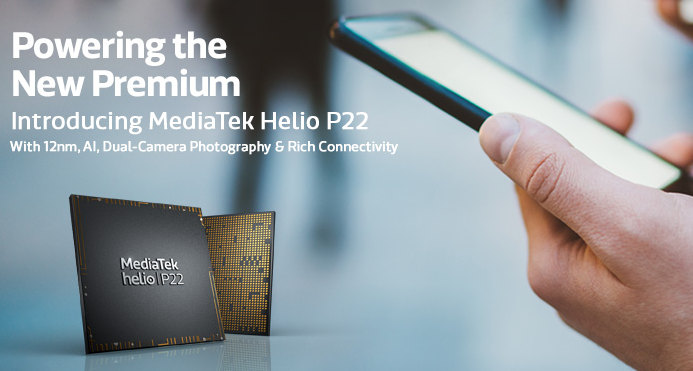 Connectivity options on both the chipsets are more or less the same with support for Dual-band 802.11ac WiFi with MU-MIMO 2×2, 4G VoLTE, Bluetooth v5.0, GPS, Glonass, and BeiDou. The Taiwanese company has stressed on the fact that its next-generation mid-range system-on-chip will integrate dual 4G SIM with VoLTE and ViLTE technology and better cell reception with its MediaTek TAS 2.0 smart antenna system.
Verdict:
While Qualcomm has been clear on its intention providing a smoother transition from a mid-range chipset to a high-end one, by adding a couple of features on the former, MediaTek has taken a whole another route with its Helio P22. Though the Snapdragon 710 promises additional performance, snappy day-to-day usage and a power-efficient processor, MediaTek is packing attractive features like AI dual camera support and rich connectivity through its Helio P22.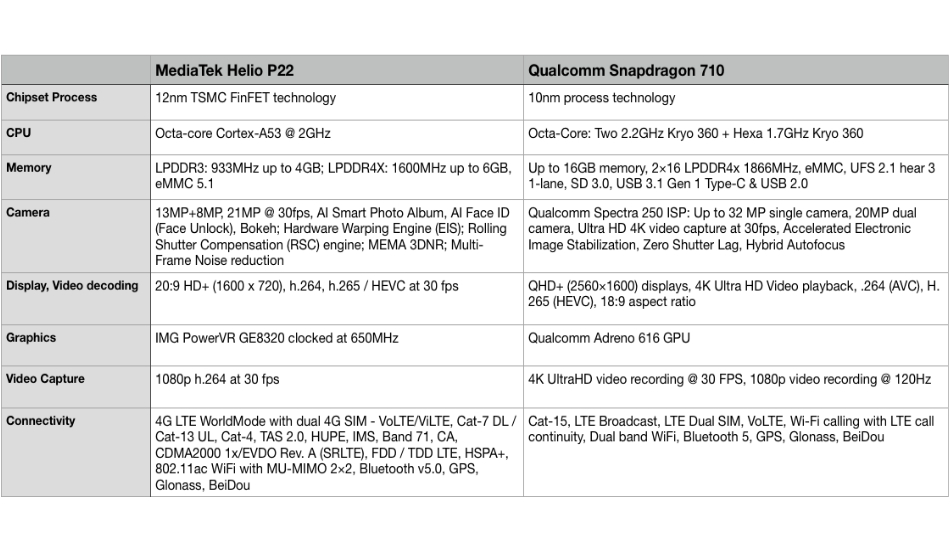 The MediaTek Helio P22 and Qualcomm Snapdragon 710 are both already in production and are available for smartphone manufacturers to make use of and will both debut within the second quarter of 2018.