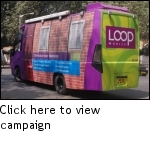 Mumbai-based operator Loop Mobile has introduced a system that will allow subscribers to activate connections, buy recharge coupons and pay bills at a van positioned in their locality instead of having to go to a Loop Mobile outlet.
Designed by Indian automobile designer Dilip Chabbaria, the air-conditioned van is furnished with customer service desks and has three executives posted for assistance. Subscribers can activate new postpaid and prepaid connections, recharge prepaid cards, pay bills, activate and deactivate value added services, replace SIM cards, change their number or tariff plan and resolve billing and service queries at the van.
Sumeet Badlaney, vice-president, customer service delivery, Loop Mobile, said in a company statement, "The fully functional and well equipped van will enable us to provide all the diverse services that our Loop Mobile Stores provide. It is also a means of creating maximum visibility and brand impact across the entire city. Going ahead, we will even dedicate certain days in a month to our corporate clients; this will be a boon to office-goers who are always time pressed," he added.
As per the statement, the van will visit different areas of the city everyday and Loop Mobile subscribers will be informed a day in advance, via SMS, of its presence in their neighbourhood. The van is equipped with GPRS to provide online connectivity to the Loop Mobile server.
The van will be stationed outside highly frequented locations such as shopping malls, theaters, and colleges. Depending on the response, the company will launch more such mobile vans. Loop Mobile (formerly BPL Mobile) launched its services in 1995 and currently operates in Mumbai with over 2.7 million subscribers.