LG Electronics has announced that it'll start selling the world's first 8K OLED TV with pre-order starting this week in South Korea. The 88-inch LG Z9 8K OLED TV which was first on display at the CES 2019 event in Las Vegas, will come in July at a price of 50 million won in South Korea which roughly translates to Rs 29,27,000.
The 88-inch LG 8K TV comes with an Ultra HD resolution of 7,680 x 4,320 pixels. The TV is powered by LG's second-generation α (Alpha) 9 Gen 2 8K intelligent processor which can optimise content by recognising source quality and implementing the best algorithm through deep learning technology. It also helps in upscaling standard content to 8K and offers improved noise reduction to 6-steps from 4-steps.
The α (Alpha) 9 Gen 2 intelligent processor will adjust the tone mapping curve for optimized screen brightness and use the TV's ambient light sensor to measure light levels. The processor will be able to refine HDR content by adjusting brightness and also optimises the output to deliver virtual 5.1 surround sound.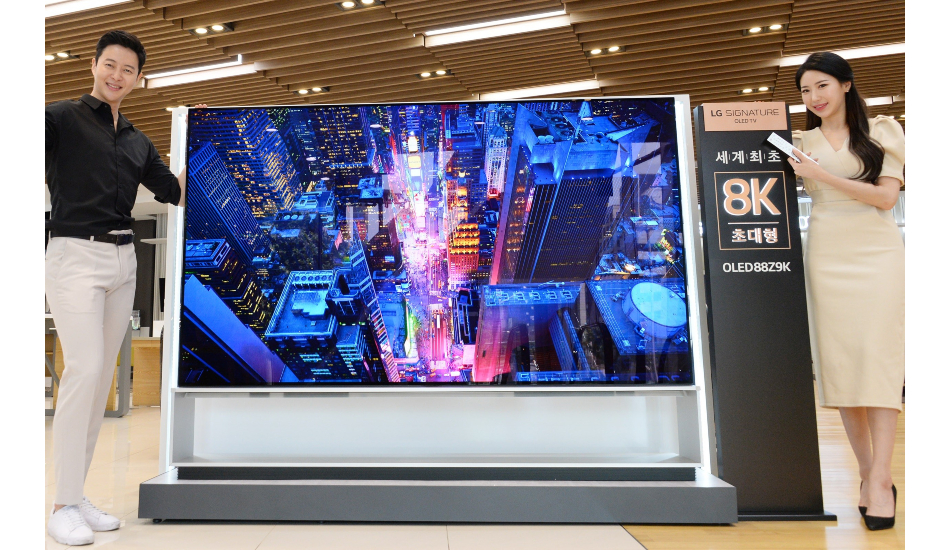 The LG 88Z9 comes with virtual 5.1 surround sound support which is done by an intelligent algorithm that up-mixes two-channel audio into surround sound. The TV comes with Dolby Atmos support and HDMI 2.1 and thus allows 8K content viewing at a fast 60 frames per second.
The TV also supports automatic low latency mode (ALLM), variable refresh rate (VRR) and enhanced audio return channel (eARC). Some markets will also additionally offer built-in support for Google Assistant and Amazon Alexa for ease of control.
Speaking about the development, LG Home Entertainment President, Brian Kwon said "Being the first to market with the world's first and largest 8K OLED TV shows our commitment to leading the ultra-premium TV segment and delivering the ultimate viewing experience. LG was a pioneer in bringing OLED to market and we will continue to introduce state-of-art TV technologies that push the boundaries of what's possible in home entertainment".
The 88-inch LG Z9 8K OLED TV will be available in July for an asking price of 50 million won (approx. Rs 29,27,000), first in South Korea.