Intel has finally introduced its take on 5G technologies for the future with the introduction of the XMM 8160 5G modem that will empower the smartphones, PCs and gateways to 5G connectivity. The XMM 8160 will be able to offer peak speeds of up to 6 gigabits per second, that's six times faster than the latest LTE modems.
The Intel XMM 8160 is a multimode modem, meaning it will support the new standard for 5G New Radio (NR), including standalone (SA) and non-standalone (NSA) modes, as well as 4G, 3G and 2G legacy radios in a single chipset. The single-chip multimode baseband capability inside the modem will allow device manufacturers to design smaller and more power-efficient devices, thus allowing room for other components inside the same form factor.
Intel's integrated multimode solution supports simultaneous connectivity (EN-DC) for LTE and 5G – critical as 5G mobile network devices must be backward compatible to 4G if 5G is not available at any moment or at any location. With worldwide carrier support, broad platform certification and broad OEM support, the Intel XMM 8160 modem deliver 5G capabilities that operators and device makers can rely on for their global deployments.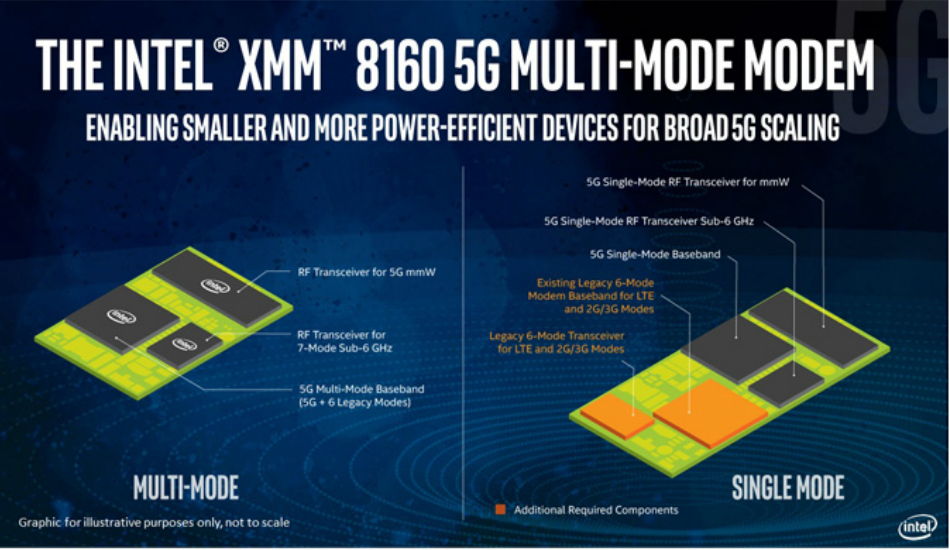 The Intel XMM 8160 also offers support new millimetre wave (mmWave) spectrum as well as sub 6 GHz 5G NR support (including FDD and TDD bands from 600 MHz to 6 GHz) and download speeds up to 6 Gbps. The industry move to mmWave and mid-band spectrum addresses the enormous need for more bandwidth for users, devices and connected machines.
Intel corporate VP and Communication and Devices Group GM, Cormac Conroy said "Intel's new XMM 8160 5G modem provides the ideal solution to support large volumes for scaling across multiple device categories to coincide with broad 5G deployments. We are seeing great demand for the advanced feature set of the XMM 8160, such that we made a strategic decision to pull in the launch of this modem by half a year to deliver a leading 5G solution".
The Intel XMM 8160 5G modem is expected to ship in the second half of 2019 with commercial devices powered by the same to come out during the start of 2020.