Last year, Instagram added a new'Close Friends' tool for its own Stories section, allowing users to share their Instagram Stories to a limited number of people. The company has now introduced a Threads app for messaging your 'Close Friends' on Instagram.
Instagram Threads will be a standalone app beside the main Instagram app which will primarily be a camera-first messaging app to connect to your close friends on Instagram. Opening the app will greet you with a camera viewfinder to quickly snap pictures and send it to your friends.
The company notes that the pictures and videos captured on Threads can only be sent to close friends on Instagram. The app will display a list of close friends with a direct messages section for each of them. The app supports group messaging for messaging more than one close friend at a time.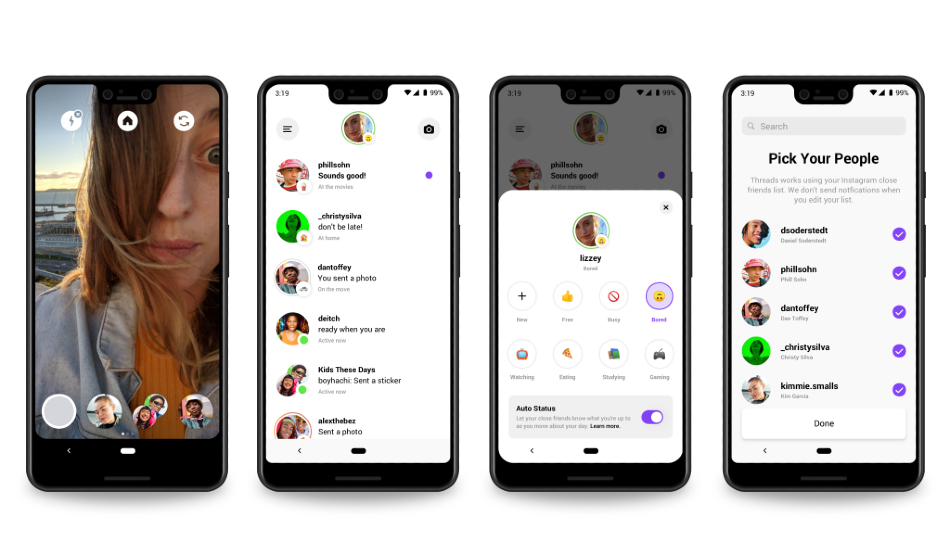 A new feature to come with Instagram Threads is Status which can be used to mention what a user is up to or an activity they're doing like studying, working, etc.. The Status will work similarly to the WhatsApp's about section which was previously called Status.
There's also an Auto Status feature which automatically shares little bits of context on where you are without giving away your coordinates. Auto Status can be anywhere from a location like "At the gym" or "At home" to "on the move" and "low battery". Users can control whether or not they want to share their status or with whom it is shared.
Facebook says that the location data sent by Threads to its servers will be locally stored on the device and will be deleted once the app is uninstalled.
Threads for Instagram is currently rolling out to iOS and Android devices.