Days after adding the Close Friends feature to its Stories section, Instagram is now adding a voice messaging feature to its Direct Messages, similar to how WhatsApp introduced Voice Notes on its chat messaging platform. The feature allows users to share audio messages to up to a minute in group and single threads across devices, both on Android and iOS.
Voice messaging inside Direct will let users record messages when pressing and holding the microphone button. Once the finger is released, the message will automatically send to the person intended. If a user wishes to delete to re-record an audio clip all over again, they'll have to slide their finger over to the trash can to delete it.
Audio messages in Instagram Direct stay indefinitely and aren't limited to a certain timeline and today's addition will allow Instagram to compete with WhatsApp and Facebook messenger as a messaging alternative.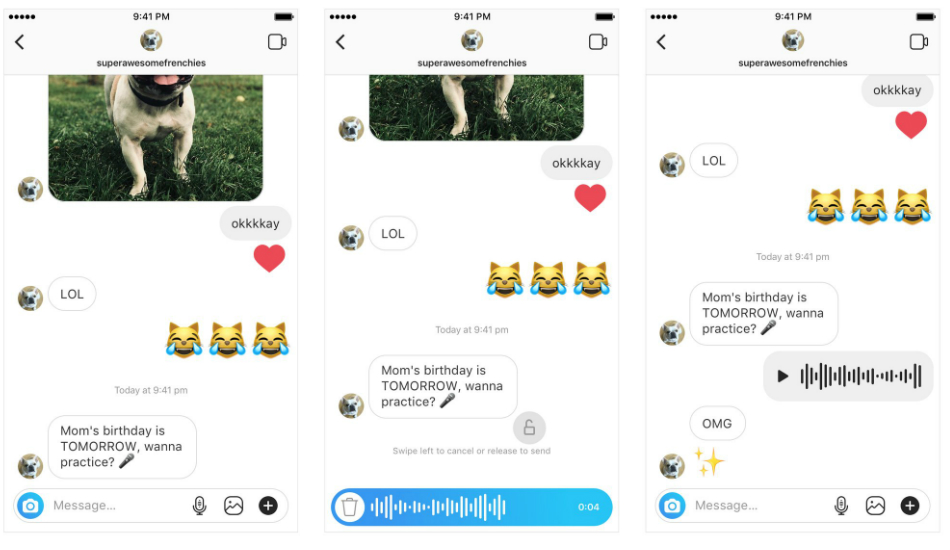 In a tweet posted officially, Instagram said "Starting today, you can send voice messages in Direct. Talk the way you want to be heard, whether by whispering what you're up to or shouting a compliment".
Prior to this, Instagram introduced Close Friends – allowing users to create a single private list of best friends through search and suggestions so that they share more intimate stories with them and not everyone. Earlier last month, Instagram also took the necessary steps to limit accounts that use third-party apps to gain inauthentic follows, comments and likes in order to boost popularity.
Voice Messages on Instagram Direct is available on Instagram's latest app on iOS and Android starting today.