A week after adding voice messaging to its Direct messages, Instagram has now announced newer ways to interact with friends and followers with the addition of new stickers to use inside Instagram Stories and a Q&A feature when opting for Instagram Live.
Among the additions to the Stories section, Instagram is adding a new music recommendation sticker which can be used when answering to a question sticker on Stories. The feature can be accessed by pressing the new music icon when using the questions sticker. Your friends and followers will then be able to respond with their choice of music by selecting a song from the music library. Users can share their favourite music recommendations which can then be captured as video or photo.
The latest music sticker also brings new camera effects that change accordingly when a song is playing. To use these new effects, you can swipe to "Music" in camera, upon doing which you'll be greeted with new icons for capturing photos. Music recommendations will roll out to the latest version of the Instagram app on both iOS and Android but are limited to the availability of Instagram's music library from one region to another.
Instagram has also introduced a new interactive countdown sticker in Instagram Stories which will allow users to build up toward an exciting event like the end of a working week or New Year's Day. Adding a countdown sticker to your story is simple as it can be accessed from the sticker that pops up when uploading a story. Users will be able to name their countdown event, customise colours and add an end-time/date for the countdown sticker. The countdown sticker is available globally on iOS and Android.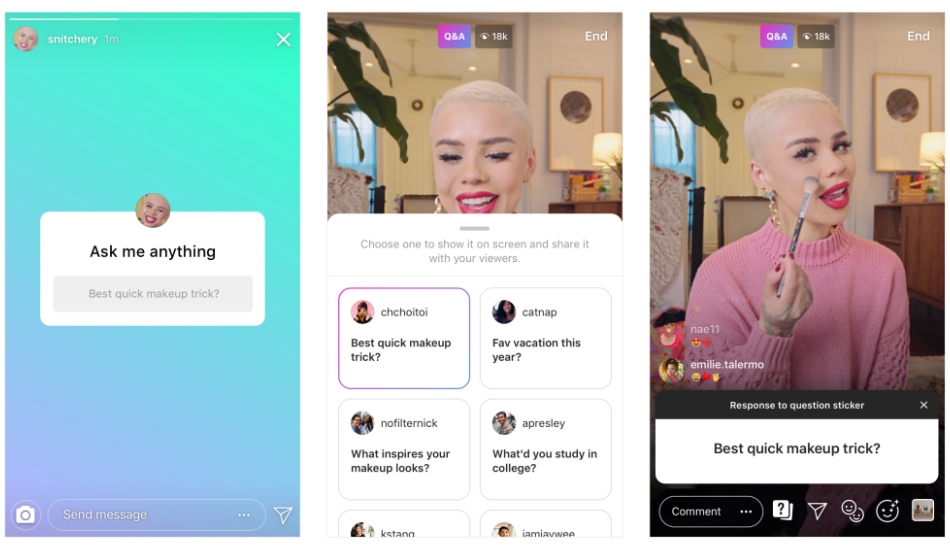 Lastly, Instagram has also upgraded the Instagram Live section with the ability to ask and respond to questions during a live video. To ask a question and have it answered Live, go to someone's story and respond to their questions sticker. Once that user goes Live to answer to your question, you'll see "Q&A" in your Stories tray. Users going Live can also share photos and videos from their camera roll to their Live video. Questions in Live will be rolling out on the latest version of Instagram for iOS and Android starting today.