During the first quarter of this year i.e. the period from January to March, the global smartwatch shipments declined by 1.5 percent year-on-year as per Counterpoint Research. However, India recorded a whopping 121 percent growth in shipments in Q1 2023 compared to the same period last year. The smartwatch market increased from 12 percent to 27 percent. This growth limited the decline in global shipments of smartwatches in the first quarter.
Also Read: Fire-boltt Shark Rugged smartwatch launched in India
Global smartwatch market declines in Q1, 2023, but India records growth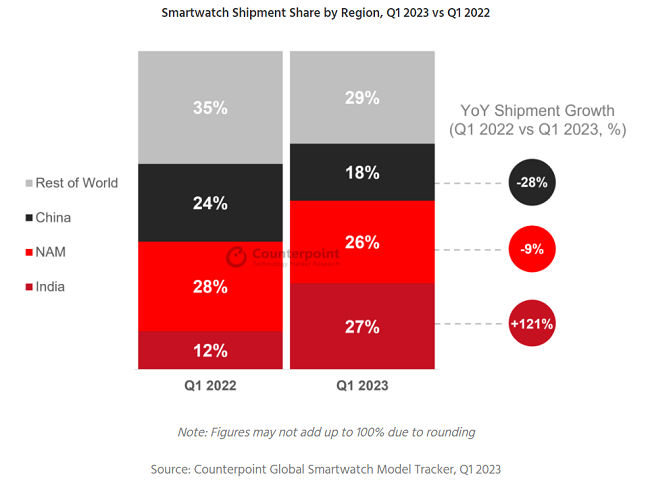 This was the second consecutive quarter of decreased shipments of smartwatches following a 8 percent YoY decline in Q4, 2022. All regions except the Indian market witnessed a decline in shipments. The reason is attributed to reduced demands from major brands like Apple and Samsung, and the global inflationary pressures reducing consumer sentiment.
Counterpoint adds that the advanced and high-level operating system smartwatches like Samsung Galaxy Watch 5, Apple Watch witnessed a decline from 60 percent to 53 percent between Q1 2022 and Q1 2023. Meanwhile, the market share of basic smartwatches increased significantly from 23 to 34 percent with the growth primarily coming from India.
In Q1 2023, India also overtook the North American and China markets in terms of smartwatch shipments. North America and China had 26 and 18 percent share compared to India's 27 percent.
Fire-Boltt overtakes Samsung to secure second place in the global smartwatch market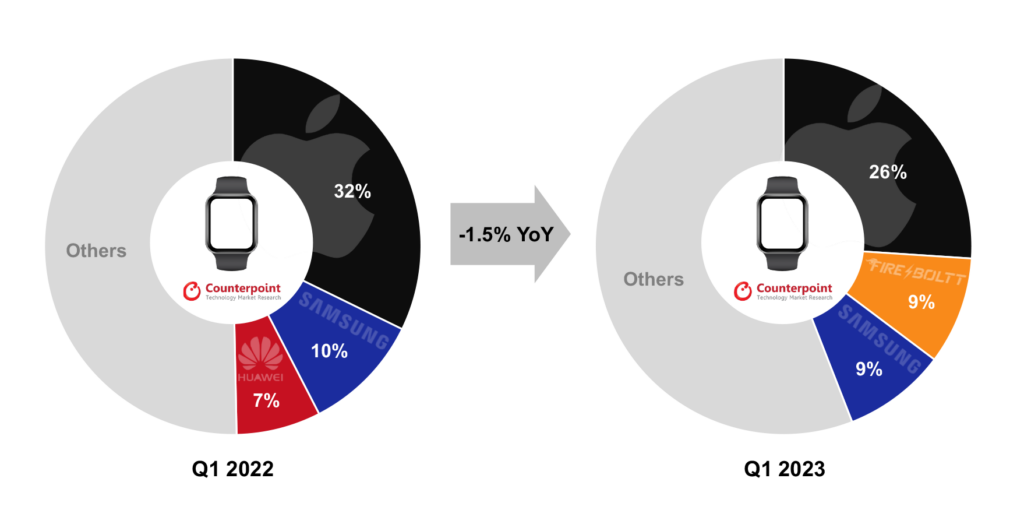 Cupertino-based tech giant Apple LED the smartwatch segment with a 26 percent market share although the shipments dropped from 32 percent in Q1 2022. Samsung which was second in the corresponding period last year with 10 percent share recorded a 9 percent market share in Q1 2023. Despite being popular in North America the brand's shipments witnessed a decline in other markets. The company's global shipments dropped 15 percent YoY. This caused the brand to slip to the third position. Surprisingly, Indian brand Fire-Boltt overtook Samsung becoming the second-largest smartwatch seller globally. The company held a 9 percent shipment share which is the same as Samsung.
Fire-Boltt's shipments increased by three times compared to the previous year and up 57 percent from Q4, 2022. This shows the rapid growth of the smartwatch segment in India where it also competes against Noise, boAt, and more.
Analysts say that smartwatches in India cover a wider price range and products tailored towards customer needs at an affordable price. The under Rs 2,000 ($25) segment accounts for 40 percent of the total shipments.