Hathway Broadband has introduced a new entry-level broadband plan for its users. The operator has launched Value RTL 100, which is priced at Rs 699 per month.
The new broadband plan is currently available in Kolkata circle and there is no information whether the same plan will be available in other circles or not. To start with the benefits, customers opting for Value RTL 100 plan will get 100Mbps internet speeds. The plan comes with 1000GB of data per month and once it is exhausted, the internet speed will be reduced to 3Mbps.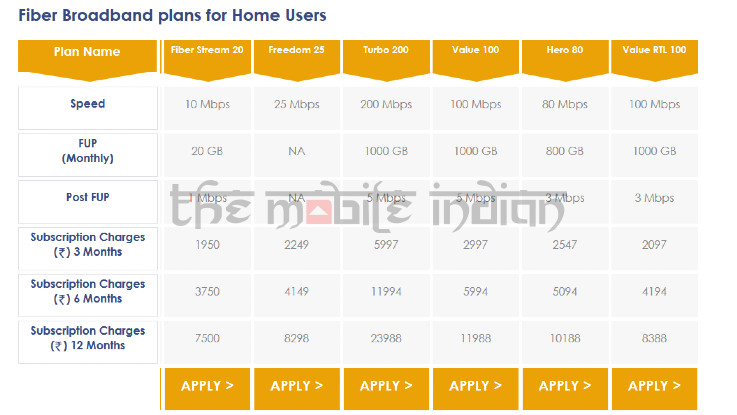 However, there is a catch! Customers need to pay for a minimum of three months in order to get these benefits. The three-month plan is priced at Rs 2,097. It also comes with 6 months and 12 months, which is priced at Rs 4194 and 8388 respectively. Furthermore, customers will have to pay for installation charges and taxes on top of the said amount. The plan also ships with Hathway Playbox streaming device, which allows users to stream content from third-party OTT players.
This is the cheapest plan that gives you 1000GB of data per month. The Reliance JioFiber also comes with a Rs 699 plan that offers 100GB data per month with 50GB extra monthly data for the first six months. The plan offers 100Mbps speed and once the FUP limit is over, the speed is reduced to 1Mbps.
Airtel's Rs 799 plan offers a monthly data of 100GB at speeds of 40Mbps per month. For first-time users, the operator is also offering an additional 200GB of high-speed data for use under six months.
ACT Fibernet's Rs 749 plan brings users 500GB of monthly data at 100Mbps. While extra data of 1000GB is provided, it needs users to subscribe to a long-term plan of at least six months. Apart from that, post the FUP limit, data speeds will throttle down to 512Kbps.