Tikona, which has won 4G (BWA) spectrum in five circles that includes Gujarat, Rajasthan, UP-East, UP-West and Himachal Pradesh, reportedly plans to launch its 4G services starting Gujarat and Rajasthan early next year.
According to a report in ET, Tikona has invited bids from network vendors to set up its 4G network and plans to spend Rs 1,058 crore. ET report also suggests that the first circles to get the network will be Gujarat and Rajasthan. The company will use TD LTE technology for its network just like the other players like Airtel, Aircel and RIL, which offers speeds up to 100 Mbps.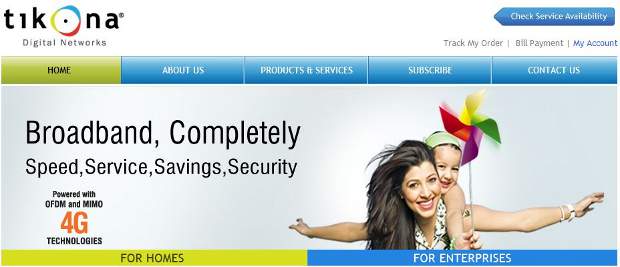 Tikona, unlike Airtel and Aircel (two other players with BWA spectrum), is a pure play wireless broadband player currently offering service using unlicensed band over 4G (WiMax) and WiFi technology.
Airtel is currently the only service provider in India which already offers 4G services in Kolkata and Bangalore. It also plans to launch service in Pune and Chandigarh shortly. Airtel has also bought stake in Qualcomm's BWA (broadband wireless access) business which has spectrum in four circles (Delhi, Mumbai, Kerala, and Haryana) and is looking at early next year launch in Mumbai and Delhi.
The other company which has announced plans for its 4G network is Aircel which has license for eight circles and will launch its first 4G network with Chennai by December this year.
Reliance Industries which is the only private player with nationwide license, however seems to be in no rush and is reported to be rolling out its own network from ground up and is likely to take another 12 months to start its operations.