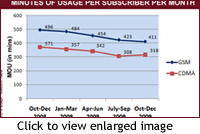 There has been constant decline in the minutes of usage (MOU) of GSM subscribers in India, while the MOU of CDMA subscribers has gone up in the last quarter of 2009. This trend is based on the Telecom Regulatory Authority of India's (TRAI) figures on the telecom sector's performance from October to December 2009.
GSM MOU stood at 496 minutes per subscriber per month at the end of December 2008. It dropped by 12 minutes to 484 minutes at the end of March 2009 and by 30 minutes to 454 by the end of June 2009. The MOU further declined by 31 minutes to 423 in the following quarter ended September 2009 and by a further 12 minutes in the next quarter, bringing down the MOU to 411 minutes at the end of 2009.
The trend seems surprising, especially in the wake of falling prices. Citing a reason for this trend an industry expert told Telecom Yatra, "There are more than 10 million new GSM subscribers in a month. These new subscribers initially show a low usage pattern (in terms of MOU) which takes about four to five months to escalate. Also, the usage of multiple SIMs has become quite popular. Users are buying multiple SIM cards but it does not mean they will call."
Among CDMA users the MOU dropped by 14 minutes from 371 minutes for the quarter ended December 2008 to 357 minutes at the end of March 2009. CDMA MOU saw a further decline of 15 minutes, falling to 342 at the end of June 2009 and to 308 minutes at the end of September 2009 due to a drop of a further 34 minutes. However, usage went up by 10 minutes in the last quarter of 2009, reaching 318 minutes.
Another industry expert shared, "The emergence of new CDMA players, like MTS, who offered free calling within their network has majorly contributed to the increase in MOU during the last quarter of 2009." MTS had initially launched with an offer of a million free minutes distributed to new subscribers.
Highest usage in terms of minutes came from circle C with 462 minutes for GSM and 416 minutes for CDMA services, while this circle lagged behind as far as SMS usage is concerned. For GSM services, outgoing SMS per user per month stood at 11 and for CDMA the number stood at 5.
Circle A contributed with 392 minutes of usage per month and 55 outgoing SMS for GSM services while CDMA contributed 281 minutes of usage and 15 SMS per month. Circle B recorded 406 minutes of usage and 18 SMS per subscriber per month for GSM and 309 minutes and 9 SMS for CDMA.
Usage in the metros was 436 minutes and 26 SMS for GSM and 356 minutes and 25 SMS for CDMA services, per subscriber every month.
Another interesting trend is the surge in SMS usage for both GSM and CDMA services. Outgoing SMS per subscriber among GSM users went up by almost 10 per cent from 29 in September 2009 to 32 in December that year. This pushed up operators' revenue from SMSs by 1 per cent. It increased from 4.7 per cent in September 2009 to 5.7 per cent in December 2009.
CDMA saw a growth of almost 37 per cent, with outgoing SMSs per subscriber per month going up from 10 in September 2009 to 14 in December that year. As a result total revenue from SMS went up by 0.5 per cent from 5.1 per cent in September 2009 to 5.6 per cent in December 2009.
This can be attributed to the various free SMS and 1 paisa per SMS schemes introduced by operators during the period.
Circle A comprises Gujarat, Andhra Pradesh, Karnataka, Tamil Nadu and Maharashtra. Circle B includes Punjab, Rajasthan, Madhya Pradesh, Kerala, Haryana, Uttar Pradesh (East), Uttar Pradesh (West) and West Bengal. And Circle C comprises Bihar, Orissa, Assam, North East, Jammu & Kashmir and Himachal Pradesh.