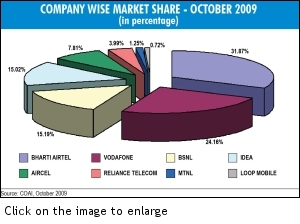 GSM operators have added over 10 million new subscribers in October, an increase of almost three per cent over September, according to figures released by the Cellular Operators Association of India (COAI). The total number of GSM users in India stands at 355 million.
The figures reveal an upward trend in the number of subscribers in non-metros. Rajasthan saw the maximum increase in the number of subscribers. The circle has about two million GSM subscribers, which grew by 4.24 per cent over September. Uttar Pradesh (East) and Bihar circles registered a 4.14 per cent rise in the number of subscribers.
These three circles from B and C category were followed by Orissa (growth of 3.94 per cent), Uttar Pradesh (West) (3.82 per cent), Himachal Pradesh (3.72 per cent) and Jammu and Kashmir (3.23 per cent).
Other circles and metros from Category A predictably registered a slower growth, with Delhi at 1.91 per cent, Mumbai at 2.17 per cent and Chennai at 1.6 per cent.
The trend clearly shows that metros and larger cities have reached a saturation point and maximum revenues for the telecom sector will come from smaller towns and rural areas in the coming times. Going by the current figures, the growth is non-metros is about twice as fast as in metros.
Kolkata is one exception to this trend. The metro still registers a growth rate of three per cent month on month.
In October, Vodafone Essar saw the maximum increase in the number of subscribers by 2.9 million over the previous month. However, in terms of percentage, Aircel led the operators by registering a growth of 7.84 per cent. Aircel has been actively promoting its service in small towns through on-ground and outdoor campaigns.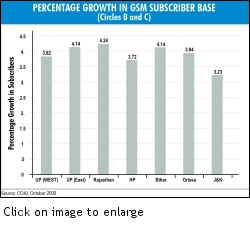 Idea Cellular follows next with an increase of 3.69 per cent, Airtel (2.45 per cent), Loop Mobile (2.01 per cent), MTNL (1.5 per cent) and BSNL (1.13 per cent). The operator has recently launched its operations in three new circles – Jammu & Kashmir, Kolkata and West Bengal and is planning to launch in Assam and North East circles by the end of this year.
Bharti Airtel and Idea cellular have registered 2.7 million and 1.9 million new subscribers in October respectively.
According to COAI, Bharti Airtel retains the maximum market share of 31.87 per cent in October, followed by Vodafone Essar (24.16 per cent), BSNL (15.19 per cent), Idea (15.02 per cent), Aircel (7.81 per cent), Reliance Telecom (3.99 per cent), MTNL (1.25 per cent) and Loop Mobile (0.7 per cent).